Sashin Govender Top Speaker At The Business For Home Virtual Conference
November 19, 2020
By Team Business For Home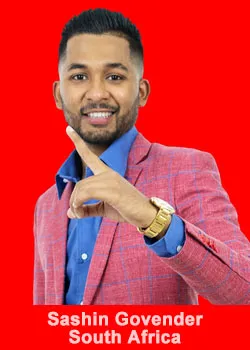 Order your "special early bird priced" ticket here
Sashin Govender, is 26 years young and lives in Johannesburg, South Africa and his team has over 150,000+ customers and distributors in 42 countries.
He has developed a Work Like You Broke Mindset in building his dynasty and is known as "The Millionaire Student." Having made his first Million at 21 years old, but remaining in Student Mode.
He is the Founder and CEO of the TMS Ecosystem which owns more than 20 companies. He is also a world-renowned speaker on leadership, sales, entrepreneurship, digital marketing, and an expert in helping you reset your paradigm.
Sashin was born and raised in South Africa, a 3rd world country, with an average monthly income of $300. Through hard work and determination, he was able to earn his first 6 Figures by age 19, 7 Figures at 21 and became one of the youngest multi-millionaires at 24.
He attributes his success to personal development which he was introduced to at a tender age of 8 years old and was also a Chess wizard at 6 years old, which helped him develop a strategic thinking process and becoming a visionary in which he plans 15 moves in advance.
Now, he has crowds of tens of thousands sitting at the edge of their seat in stadiums such as AT&T Stadium in Arlington, Texas, and inspired entrepreneurs in more than 90 countries and 6 different continents. His inspirational journey has inspired millions of people around the world, as he shares his message of success and positivity based on the 4 Pillars To Mastery: Health, Wealth, Spirituality, and Relationships.
—
Marketing Professionals from around the world will come together in an immersive generic training experience.
Using the latest and most advanced technology and audio/video equipment available, we will bring you 3 days of the best of the best training anywhere available for an unparalleled price, broadcasted from an impressive TV studio in the Netherlands.
Meet Sashin Govender
An "special early bird priced ticket" is just $35 for all 3 days!
Young network marketing leaders, fast rising stars, as their mentors will share their methods and "secrets" to recruit, team up and build a large organisation.
30+ Top speakers from Asia, Europe, Africa, Latin America, Middle East and the USA!
Order your "special early bird priced" ticket here
April 2 – 4, 2021
"What's possible for one is possible for all, Network Marketing makes ordinary people to be extraordinary".
A ticket is just $35 for all 3 days!
Order your "special early bird priced" ticket here
About Business For Home Virtual Conference
The virtual conference is delivered to you in a completely generic format. No companies or products are ever mentioned, so you will feel safe to share this ultimate training event with your Team. Emerge from this new era as a true leader. Unveil the secrets of influential network marketeers from all over the work at our event.
And there is no better place to invest in yourself than the upcoming Business for Home Virtual Growth Conference, a three-day life changing experience that features renowned legends and rising stars.
Learn how to excel in your business and be empowered by successful leaders that will provide you with the necessary tools to become a better version of yourself. For tickets please click here, for the conference overview with 30+ speakers please click here.