Top Leader Kevin Mullens Joins Navan Global
November 18, 2020
By Team Business For Home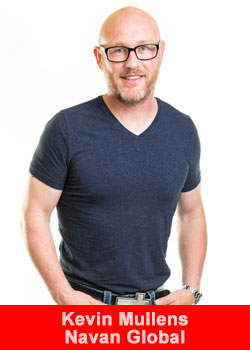 NAVAN Global is pleased to welcome Kevin Mullens. Kevin is an accomplished author, executive movie producer, empowerment specialist and top-earning network marketing industry leader.
"Imagine finding a company that offers certified, transparent products, a lucrative compensation plan, and corporate leadership that has a proven track record of success in the industry. That's NAVAN."
Kevin continued,
"Most importantly, the vision of NAVAN is in alignment with my personal core beliefs and values. I'm proud to be leading from a larger platform with the great responsibility of helping people discover and develop all that God has deposited into their lives."
From a young age, Kevin knew that he didn't want a "job." He worked for his father's construction business, where he learned valuable life and business lessons, but his ultimate goal was to be an entrepreneur. In 2009, a network marketing icon took Kevin on as a protégé, and Kevin found his assignment as a Kingdom entrepreneur.
His immediate success earned him a spot in the center of the network marketing industry, growing and leading teams in over 70 countries. Kevin is a successful seven-figure income industry earner who has won multiple awards, including Entrepreneur of the Year and Chairman of the Year.
He has been featured in Success From Home, Business For Home, Who's Who and Prosper Magazine. Personally, Kevin is a global keynote speaker, the author of five personal development books, an executive movie producer, and a frequent guest on Atlanta Live, TBN Salsa, WORD, and NOW network.
"I have known Kevin since 2008 when we spent time together building and leading teams. He is a passionate leader with a true calling and favor who has for years consistently built global organizations,"
said Trey Knight, NAVAN Founder.
"I can't think of a better trainer or personal development coach than Kevin. He is a great friend and now business partner, and I am excited to have the opportunity to finish what we started over ten years ago."
"My partnership with NAVAN is about raising the standard in network marketing," said Kevin. "I believe that there is no industry better than network marketing at giving ordinary people a fighting chance to create extraordinary results.
I'm excited to focus on building a culture with NAVAN that moves people beyond success into significance."
About NAVAN Global
At NAVAN Global we have an obsessive enthusiasm for one thing: changing people for the better. We hold a deep sense of responsibility to create a sustainable company that empowers people for success. Our mission is to simply be a better company. One that people can trust to be ethical and transparent.
NAVAN Global offers a product portfolio of all-natural health and wellness products. Its next-generation compensation plan is simple by design allowing members to quickly be rewarded for introducing new customers to its products and business opportunity. For more information about NAVAN, visit www.navanglobal.com.