Top leader Quini Amores From Spain Joins Success Factory
November 11, 2020
By Team Business For Home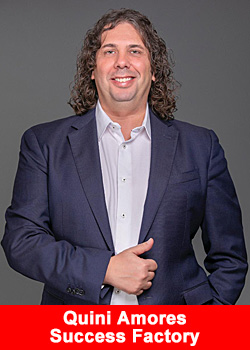 Quini Amores, from Spain, has recently become an independent associate of Success Factory, as well as part of the distinguished international team Success4All, founded and led by Igor E. Alberts and Andreea Cimbala.
This top leader boasts over 8 years of experience in the network marketing industry, however, he can be defined as an ultimate professional due to his rapid success in practically all the companies he ever joined. According to his words, this track record is the result of surrounding himself with the right people and, above all, having the right attitude, where "it's not about what happens to you, but what do about it."
Throughout his professional career, Quini had had his ups and downs, and it was a "down" that finally brought him to the network marketing industry. After leaving his job as an employee at an attraction park, Quini became a prosperous entrepreneur in the catering sector.
After having grown from a small restaurant in Salou, Spain, to a noteworthy hostelry establishment in the city of Barcelona, the flagship of his project of an international business franchise, Quini lost about everything due to the global economic crisis. The only thing he got left was a huge debt, which "would take 5 lives to pay out."
New hope was born when Quini was invited to a conference where he met a person who would introduce him to the world of network marketing. An event that he visited by that suggestion, as well as the appropriate literature and the inspiration from successful network marketing leaders were the causes of Quini's initiation in the industry.
"I would like to recommend reading "The Strangest Secret", by Earl Nigthingale. This book turned me into a successful entrepreneur and taught me the right attitude to business and to life.
I profoundly love and respect the network marketing industry. It is a place and a chance for absolutely anyone not only to grow professionally and personally, but also to impact other people and leave a mark on the world. For me, it made the impossible possible.

It's incredible how one doesn't need any university degree or special skills to become a successful networker."
Quini Amores has only recently joined Success Factory, and his story in this company is still to be written, however, he admits that he doesn't have any bit of doubt that his utmost success is inevitable:
"Success Factory constitutes for me the very right vehicle to bring my life plans to fruition. I used to occupy the number 1 position in the previous company, however, the things weren't moving forward, so I finally decided to turn to my greatest mentors and personal friends Igor Alberts and Andreea Cimbala, whose experience and impact I deeply admire. One can only become successful if they are surrounded by the right people, and there is nobody more ideal than this power couple number 1 in the industry.
My experience in Success Factory has been sensational so far. I can clearly see that it is a real and honest company, with proven results and an important impact on the lives of people all around the world. To its affiliates, Success Factory offers the best leadership, efficient support and guidance and a unique compensation plan. What more could you ask for?!"
From his side, Quini is bringing to Success Factory his extensive team "One Dream Team Network" that operates in around 15 countries in Europe and Latin America. After the pre-launch phase, the goal of the team is to bring positive change to one million families in the period of 5 years.
Finally, Quini Amores adds some words about his philosophy regarding the network marketing profession:
"Network marketing is, without any doubt, a world where you can find personal freedom and create awareness. Don't use people to develop network marketing, use network marketing to develop people."
About Success Factory
Success Factory is a network marketing company whose main goal is the promotion of human potential and supporting latest technology, relying on innovative and creative proposals that bring real solutions to the lifestyle in the 21st century.
The product catalogue of the company is mainly digital, covering the spheres of technology, education, sales skills and financial expertise. All that always improving quality, usability and exceptionality and offering its sales force different products to work with. The most outstanding items within the extensive ecosystem of the company are Forex Insiders, B.A.N.K., Dagcoin, and Dagpay.
Success Factory has come to be the company that transforms network marketing, being, above all, a company that detects, trains and empowers the sales professionals that will be the great legends of the industry tomorrow. Find more information on the company's website www.successfactory.com.
Recommended Distributors Success Factory