Crowd1 CEO Johan Staël von Holstein Steps Down
December 11, 2020
By Team Business For Home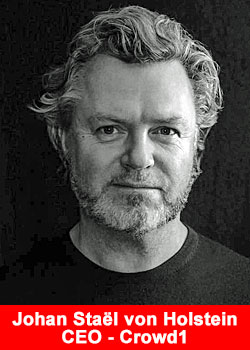 Johan Staël von Holstein steps down as CEO and sole administrator of TIM and leaves both the Crowd1 and the ICT organisation due to health reasons.
Jonas Werner, founder of Crowd1 stated:
Of course both I and the board respect Johan's decision, but at the same time, we think it's a shame to lose a strong personality with a lot of knowledge. In any case, we would like to thank Johan for his valuable contributions to Crowd1 and wish him good health and all the best for the future, 
Johan Westerdahl is appointed as the acting CEO and is already well known in the organisation considering he is recruited internally, where he comes from a position as Chief Commercial Officer.
No further comments will be made on the above issue at this point.
About TIM
TIM is part of the Impact Crowd Technology Group (ICT). It is a Spanish incorporated group with its headquarters in Madrid. The ICT Group's vision is to create the world's largest sales force, disrupting the traditional value chain and distribution of apps, software, products and services. By using its network, the ICT Group sells products directly to the end customer. Similar to Uber and Airbnb, who own neither cars nor beds, the ICT Group does not sell any products of its own. The ICT Group markets other companies' products and services across its network of members and affiliates.
About Crowd1
Crowd1 is an established online networking and marketing company based in the UAE with intentions on giving members all over the world the unique opportunity to take part in the gig economy, education, international networking, and to contribute to achieving better digital equality in the world. Crowd1's international network consists of millions of highly ambitious members with a love for entrepreneurship and sales that provides a source of income. Follow our remarkable growth and stay up to date with Crowd1 on our Instagram, Facebook, Youtube, and Twitter.