Judit Veres Becomes First Woman In Hungary To Achieve 100K Rank At MyDailyChoice
December 12, 2020
By Team Business For Home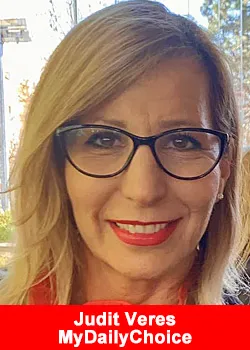 The speed and dominance of MyDailyChoice's expansion into Europe has been phenomenal, and one amazing Affiliate in the Hungary market personifies how ripe with opportunity this area is.
Judit Veres has skyrocketed through the ranks at incredible pace, becoming the first woman to achieve 100K rank in the country.
"Judit has done an amazing job growing her business. Her hard work and dedication have impacted so many lives. We're glad to have her on our team and look forward to all the things she'll accomplish in the coming years."
stated CEO & Founder, Josh Zwagil.
Judit has been a motivational influence for many, spreading the MDC wellness message and helping the life-changing product line become a household name in the region. While she loves to use all the MDC products herself, and share them with friends, family and loved ones, she says she's been using Mantra Scents ABUNDANCE daily during her successful month of expansion.
The speed of success for Judit Veres is certainly spectacular, but she's no stranger to entrepreneurship, having owned her own business in the past as well as operating salons where she gave styling advice. Her journey into network marketing began six years ago but it has only been a year since she discovered MyDailyChoice, and the difference is amazing.
"I have found my mission here, which is to set an example to the women who today do not yet believe in themselves outside of having a family with children… With the help of this business model people can feel security."
said Judit Veres.
Much of that success Judit humbly attributes to the support of her two wonderful daughters, one in high school and the other attending University, and her mother and father, who both support her work and mission. She also gives special thanks to her mentor, Sándor Dobi, who she attributes with influencing and shaping her success thus far.
"I can see dreams come true, families surviving the present difficult situation, and in this company, I could completely fulfill my dreams because we can make people successful easily and as a result of this, we ourselves can be successful as well." 
Her goal is to reach 500K next year with her team, and to achieve Super Affiliate shortly after. Judit Veres' success is the perfect example of what is possible with the right products and the right motivation.
About MyDailyChoice
MyDailyChoice, Inc., based in Las Vegas, NV, specializes in CBD products, essential oils, travel deals, and wellness and performance products. They have more than 75,000 active Affiliates worldwide and five unique brands – HempWorx, Mantra Essential Oils, High Life Travel, Daily Sprays and Akashx.
MyDailyChoice's mission is to empower families with the opportunity to be physically and financially healthy. They are committed to innovation, quality and product breakthroughs that support holistic lifestyles and the entrepreneurial spirit. For more information, please call +1 (888) 877-5436 or visit www.mydailychoice.com.
Recommended Distributors MyDailyChoice