Top Trainers Ray and Jessica Higdon Release Their Latest Book, Time Money Freedom
December 2, 2020
By Team Business For Home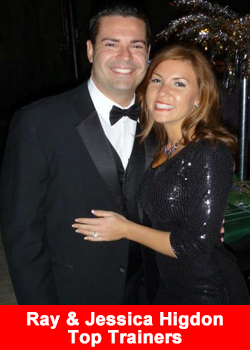 World-renowned network marketing trainers Ray and Jessica Higdon release their latest book, Time Money Freedom.
Ray's childhood was fraught with trauma and abuse. Years later, Ray and Jessica struggled, living on Jess's wages as a makeup counter salesclerk. When they decided to take their future into their own hands, they did the work and achieved dramatic success as network marketing partners.
Today, as elite coaches in the network marketing profession, Ray and Jessica Higdon now run a multimillion-dollar coaching company, and they have built an amazing life predicated on a shared desire for freedom and balance. Now they want to help you do the same.
Time Money Freedom, published by Hay House, follows Ray on his journey, navigating through the minefields of mindset struggles, largely generated from his traumatic and abusive childhood.
In the book, Ray and Jessica share the strategies they used to achieve success in the areas of time, money, and freedom. They also explore the mindset roadblocks that hinder success, whether that's your relationship with money, limiting beliefs, or allowing others to stand in the way of what you truly desire.
With 10 simple rules for redefining what's possible in your life, this book will help you build confidence, shift your mindset, and learn the tools to take control of your life and start on a path toward your own definition of freedom.
Whether "success" for you means being your own boss full-time, taking an extended parental leave without worrying about how to pay the bills, or saving money to send your child to college, you can follow these rules to make a positive change in your life.
You'll learn to:
• Make room for change in your life by banishing doubt and anxiety
• Create a vision for your personal brand of freedom outside the corporate grind of the status quo
• Talk about and make money without shame–the money you have and the money you want
• Wave goodbye to your inner perfectionist
• Know exactly what to do on a daily basis to make more money from home
• Have a commitment strategy, not an exit strategy
• Always remember that money can't buy happiness!
About Higdon Group
Higdon Group was started in 2010 by Ray and Jessica Higdon to train and motivate entrepreneurs, enabling them to achieve their highest potential.  They have shared the stage with Tony Robbins, Bob Proctor, Les Brown, Robert Kiyosaki, Magic Johnson, Pitbull, Richard Branson and many more. In 2017, the company was recognized as one of Inc. 5000's fastest growing companies in America. The Higdon Group reality show Play to Win (Season 2) was released in October 2020. Jessica and Ray also cohost the wildly popular podcast, Meet the Higdons. Time Money Freedom is available now on Amazon and in bookstores across the country. Find us on Facebook, Instagram, and Twitter.
About Hay House Publishing
Hay House is a mission-driven company dedicated to supporting positive change in the world by helping all people to grow in mind, body, and spirit. With a diverse roster of customers, authors, and points of view, Hay House offers products and resources that empower, educate, and inspire. www.hayhouse.com