iX Global's Social Platform Surpasses 50,000 Users
January 22, 2021
By Team Business For Home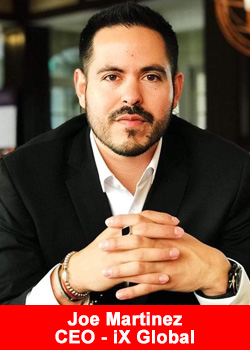 iX Global was recently launched by Industry veteran Joseph Martinez, and has quickly found success in multiple global markets.
iX provides a Social Media platform focused on self betterment and financial technology that is distributed through Direct Sales marketing. The platform seeks to increase your financial intelligence and ability to succeed in today's ever changing markets while developing a strong personal foundation in important areas of life such as mind, body, and spirit.
iX offers an exciting business model coupled with a fresh and innovative compensation plan.
iX is the culmination of 10 years of vision and planning. Former US Marine Corps Sergeant Joseph Martinez is a proven leader with over 13 year of experience in sales and marketing, international expansion, business development, consulting, and leadership development.
He has developed and led global organizations of more than one million distributors along with millions of customers, and has produced more than one billion dollars in combined sales. Martinez has an insatiable hunger to promote entrepreneurship to the masses that crave financial freedom. His drive to make a difference and contribute to society at scale gave birth to iX.
With iX, you don't have to be a celebrity or have millions of social media followers to be an Influencer. iX offers a social platform for all people regardless of background to build their best life and influence others do the same directly from their phone, and then to earn compensation and rewards based on their overall impact.
The iX Global platform helps people everywhere to embrace transformation and growth through
Gamified Training
Leaderboards and Contests
Social Recognition
Daily Habit Tracking
Multimedia Channels
Behavior Based Chat
as well as the rewarding business opportunity.
The iX Social Ecosystem integrates several lucrative industries into a single platform to empower digital entrepreneurs worldwide. We combine the best community, content, and commercial technologies to create the most powerful self improvement and fintech offering in the world. iX will continue to innovate over time to add new services to the ecosystem, with several offerings currently in preparation to be launched in the first half of 2021.
You may access the platform from almost any device around the world. iX is available immediately in over 100 countries and counting. We are currently developing leaders and influencers in more than 10 different countries. Several leaders in iX have already reached 6 figure income levels even amid the global disruption of the last year, with little to no personal face-to-face interaction; the growth has come almost exclusively online. iX is well positioned to take advantage of the "new-norms" of business created and accelerated over the past several years.
iX Pre-Launched its platform in May of 2020, and recently surpassed 50,000 users with hundreds of new users joining the platform daily.
About iX Global
The iX platform is a new generation social network, improving upon existing social media norms. Founded in 2019 and headquartered in Salt Lake City, USA, iX Global is an emerging leader in the fields of education, direct sales and social networking.
With its next-generation social ecosystem driven by community based e-learning and influence mentoring, the opportunity to make a positive impact on others is coupled with a comprehensive set of financial tools for it's Independent Brand Ambassadors, known in-platform as Influencers.
You can learn more about iX global by visiting our website www.ixglobal.us , or by downloading the iX Global App from either the Apple Store or Play Store. The base iX platform is free, however you will need a Referrer to invite you and provide access to the App's content.
Recommended Distributors iX Global