Seacret Direct® Enlists Marc Accetta as Director of Training
January 27, 2021
By Team Business For Home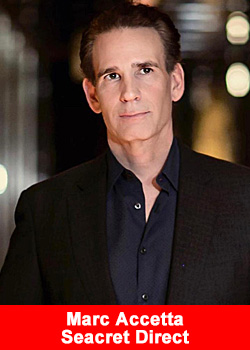 An unforgettable training and development experience for Seacret Agents worldwide. In a commitment to serve an expanding global community, Seacret Direct announces the appointment of one of the most respected and influential trainers, Marc Accetta, as Director of Training.
With over thirty years in the industry, Marc has excelled at every venture. From direct selling, recruitment, personal development coaching, mentoring, and ultimately, the design of world-class training platforms, he has put together an overwhelmingly successful career of landmark achievements.
Marc was initially a student of all he now teaches.
"I had a burning desire to improve in any way I could, in all areas of my life,"
Marc says.
He derives his greatest joy from teaching what his life studies have taught him to others and empowering them to change their own lives.
Marc is the Founder of Marc Accetta Seminars and has established a reputation and brand that is considered by many the best in the industry. Addressing audiences of tens of thousands at a time to smaller-audience-focused coaching, Marc's scope ranges from intensive personal development and breakthrough training to full-scale sales and recruiting events in arenas.
"We are eager to have Marc's expertise and enthusiasm shared with our Seacret community,"
says Izhak Ben Shabat, Founder and CEO of Seacret.
"His training will be a foundation for our continued global growth. It is another way we deliver on THE lifestyle company– by building skillset and mindset for success."
Seacret Direct is a service driven company. They originally launched with a direct-to-consumer model selling premium Dead Sea skincare products through kiosks ultimately become the world's leader in the space. From the lowest point on earth, with over 20 years of expertise and mastery, Seacret Minerals from the Dead Sea unlocks the potential of this legendary beauty spa that seduced Cleopatra and brings it directly to customers worldwide.
About Seacret Direct
Founded in 2005, Seacret Direct develops, manufactures and sells premium nutrition and skincare products that combine Dead Sea minerals and other clean ingredients with new technologies and scientific breakthroughs. Exclusively manufactured in Israel, Seacret skincare products offer mineral combinations found only in the Dead Sea. Life By Seacret nutrition products are plant centered formulas and supplements for every body. The Seacret Escapes travel program rounds out the proposition of the lifestyle company serving an ever-expanding community.
Seacret products were sold in many countries before the company adopted the direct selling business model in 2011. Since then, Seacret continues to be recognized on the DSN Global 100 list for its global impact of the industry on economic and social realms. For more information, visit seacretdirect.com.
Recommended Distributors Seacret Direct