Top Income Earners West And Lori Benson Join Amplifei
January 28, 2021
By Team Business For Home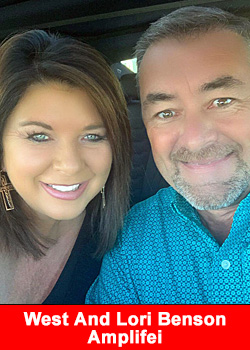 Top Income earners West & Lori Benson join Amplifei International and achieve the rank of Diamond in a record-breaking four weeks. Through their hard work, commitment to excellence, and incredible following, they are helping the company smash previous sales records.
"We joined AmpLIFEi because we are in total alignment with the vision that Robert Oblon has for this industry.  He is a true visionary and we love what he has created here at AmpLIFEi!  He has a true heart for the field and that is what we love most.  This is a place for everyone to win!" 
say West & Lori Benson.
"I'm extremely proud to once again work with the Bensons and couldn't be happier about their fast pace of success,"
Founder Robert Oblon says.
"I'm not surprised at all of the following and dedication their team has for them and is no wonder how they propelled to the top rank in their previous company."
Lori was an entrepreneur most of her life and since 2005, she had owned both a real estate and restaurant business, which consumed her days and nights.  She caught the fever of network marketing felt success very quickly. Lori knew that in order to achieve long-term success that she had to create a simple system that anyone could follow regardless of time or skills.
Lori's dream was to send her son to college and then on to medical school and do it debt-free.
Lori and West have helped thousands of other men and women achieve success with this system.  West is a full-time veteran of the industry and met Lori through his success. Now he and Lori are happily married and enjoying traveling across the states competing in team roping competitions or working from their ranch in Mississippi.
 "Here at Amplifei, it's not about 'my team' or 'your team', we are one big commUnity working together for one common goal," West says. "To see the joy on our team's face and to hear the excitement of their success is why we do what we do daily! We have an amazing community of men and women here that we couldn't be more proud of to cheer on and celebrate."
Headquartered in Greenwood, Indiana, Amplifei™ and HAPInss Brands™ were founded in 2020 by Robert Oblon, who serves both companies as Founder and Chief Executive Officer.
About AmpLIFEi
Amplifei International is a health and wellness lifestyle company with exclusive marketing rights for Hapinss Brand's products serving freelance entrepreneurs.
These two Companies combined give customers and its freelance entrepreneurs more options to improve their lives in a more complete way. Hapinss Brands™  is a Nutritional Science company providing people with the latest technological advances specific to amplifying the state of wellbeing, also known as happiness. For more information about Amplifei please visit www.amplifei.com