Jump To Health Announces A New Health Journey Program
February 20, 2021
By Team Business For Home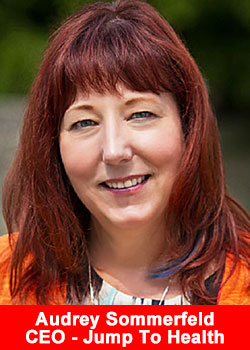 Jump To Health announces a new Website, new Video's, new Giving Program and new Health Journey Program to help customers get "Inner Fit."
 Jump To Health™, the innovative nutrition and healthy lifestyle company, is launching new websites, videos, and programs to help show how our products and programs help you get "Inner Fit".
Most of us spend our days trying to look good on the outside. We focus on our clothes, shoes, hair – all things on the outside. But it's the inside that counts. If you are not 'fit' on the inside, both from a health point of view, mental focus, and income to succeed – you won't feel good or look as good on the outside. This is why all of our products and programs help with nutrition for good gut health, immune health, blood sugar, weight and more.
Building on our 4 Pillars of Health, Wealth, Living, and Giving
Jump To Health™ is the first to offer programs, tools and natural products to help people get the nutrition they need, along with meal plans, programs, tips, recipes and tools based on lifestyles – vegan/vegetarian, keto, diabetes/blood sugar, and a simple Power 2 program. All these programs were created by Dr. Steve Witherly, PhD in Human Nutrition, with over 30 years helping people globally lose weight, build immune health, have better digestive health, blood sugar and more.
"Our 'What IF' platform shows how you can get Inner Fit, Income Freedom, Involve Family and Increase Fun – it's our What IF philosophy. This new website is also updated on our new Mobile App to help our Executives  better share the income and opportunity that is Jump To Health. We have simplified our site to make it easier for Customers to know who we are, and what we do."
Said President  Randy Mitchell.
"We also launched our Health Challenge, where you can get rewards for being on products, and/or losing weight, and we provide free education to all who join on nutrition, exercise, sleep, hydration in 12 weeks of Health emails, and we will expand this in the coming weeks to include Financial Health information, and Personal Development.

And with our "Walk To Give" program we encourage our customers and executives to help others in need simply by walking. We are proud of our Journey education, team recognition, and our savings site for discounts on travel, entertainment, shopping – all included FREE for members. Our goal is to be more than a product or opportunity company, but a true transformation for our members to live 'Inner Fit'."
Said Audrey Sommerfeld, CEO and Co- Founder  of Jump to Health
About Jump To Health™
Jump To Health™ is a nutrition & education company founded by industry experts with global experience building large consumer brands. Backed by science, and offering products that are engineered with healthy plant extracts, Jump to Health's focus is to break down food myths and help people change their lives.
The company promotes safe, affordable and effective weight loss management and nutrition products for a healthy lifestyle. The company is founded on the pillars of "Health, Wealth, Living and Giving" with products for health, revenue share for income, travel and savings portals for lifestyle, and giving back for helping others.
To learn more please visit jumptohealth.com