Nu Skin Q4 Revenue Up 28% To $748 Million
February 11, 2021
By Team Business For Home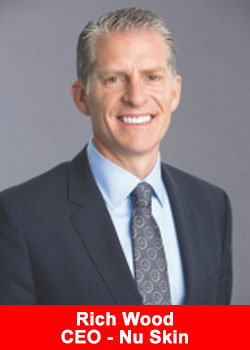 Nu Skin Enterprises, Inc. (NYSE: NUS) today announced fourth-quarter 2020 results, achieving 28 percent revenue growth and 94 percent earnings per share (EPS) growth. For the full year, revenue increased seven percent and EPS increased 17 percent. In addition, the company is projecting five to nine percent revenue growth and EPS of $3.80 to $4.10 in 2021.
"Our strong fourth-quarter results were driven by exceptional customer growth of 34 percent compared to the prior year,"
said Ritch Wood, chief executive officer.
"We grew revenue in each of our reporting segments with particular strength in the West markets where our brand affiliates have more broadly adopted social commerce to share our products. The successful Boost and Nutricentials product introductions helped generate 28 percent revenue and 29 percent sales leader growth in the quarter.

In addition, our manufacturing segment continued to generate strong results, posting 42 percent revenue growth in the quarter and playing a critical role in our ability to keep product in stock, even with increased demand and global supply chain constraints.
"I am proud of the work and execution of our entire team, especially our global sales force, as we grew both revenue and earnings amidst the uncertainty of the pandemic. We strengthened our balance sheet, repurchased more than five million shares of stock, innovated in our product pipeline, enhanced our digital capabilities and established a path for double-digit earnings growth going forward," concluded Wood.
About Nu Skin Enterprises, Inc. 
Founded more than 35 years ago, Nu Skin Enterprises, Inc. (NSE) empowers innovative companies to change the world with sustainable solutions, opportunities, technologies and life-improving values. The company currently focuses its efforts around innovative consumer products, product manufacturing and controlled environment agriculture technology.
The NSE family of companies includes Nu Skin, which develops and distributes a comprehensive line of premium-quality beauty and wellness solutions through a global network of sales leaders in Asia, the Americas, Europe, Africa and the Pacific; and Rhyz, our strategic investment arm that includes a collection of sustainable manufacturing and technology innovation companies. Nu Skin Enterprises is traded on the New York Stock Exchange under the symbol "NUS." More information is available at nuskinenterprises.com.