Sharing Services Global Corporation (SHRG) Appoints Bo Short As CEO
February 11, 2021
By Team Business For Home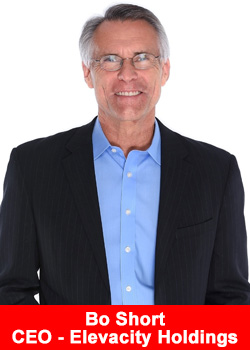 Sharing Services Global Corporation (SHRG) Appoints, Robert "Bo" Short, as New Chief Executive Officer to Lead Its Direct Sales Companies & Related Divisions.
Sharing Services Global Corporation recently announced its appointment of Robert "Bo" Short to serve as the Chief Executive Officer of Elevacity International Holdings LLC and Elevacity Holdings LLC.
Short's experience in direct selling spans over 30 years and 100 countries. He is a legendary field leader, having risen to the highest rank of leadership in multiple distributor organizations, and ranks as one of the industry's top income earners. In addition to his success in the field, Short has owned two companies in the direct selling industry and has served in key executive positions in several multinational direct sales companies.
In announcing this appointment, Company President/CEO John "JT" Thatch said,
"We are very excited to have Bo's expertise to lead our direct sales companies and specifically their U.S. and international growth. He is one of only a few people in the direct sales industry that has a track record of success as a field leader, a corporate executive and a company owner. He brings a skillset and perspective to our Company that is almost impossible to find in one person. His leadership skills and executive acumen make him a perfect fit."

"Mr. Short will be leading our direct sales companies and their global expansion. He will be integrating our various brands to be sold through direct sales under one global platform. He will be in charge of operations, supply chain, product development, sales, marketing, field development and customer support for our U.S. and international direct sales businesses. In addition to leading our global expansion, he will also work with our existing U.S. management team to refine our operational and sales functions within the United States."
In his new role as CEO, Short says, I am honored to be a part of this great organization and work alongside this dedicated corporate team as we serve our remarkable field of distributors. I look forward to building a special culture that offers each of them the opportunity to build a business of their own and accomplish their personal goals and aspirations.
Short also shares his expertise outside of the direct sales industry. As former president of the American Leadership Foundation, he's reached more than 1 million people in 34 countries with his speeches on leadership and personal development. His bestselling books include The Foundation of Leadership and Living to Win.
"We are all pleased to welcome Bo to this 'dream team' of the top network-marketing professionals globally. The entire executive team and I are excited to work together to build our company to new heights around the world.
says Garrett McGrath, president of Elevacity and Elepreneurs.
About Sharing Services Global Corporation
Sharing Services Global Corporation (OTCQB: SHRG), is a publicly traded diversified company dedicated to maximizing shareholder value through the acquisition and development of innovative companies, products and technologies. The Sharing Services combined platform leverages the capabilities and expertise of various companies that market and sell products direct to the consumer. Two of its primary divisions include Elevacity U.S., LLC (a product sourcing and supply company) and Elepreneurs U.S., LLC (a sales and marketing company based on utilization of independent contractors as the sales force).
About Elepreneurs
Elepreneurs is on a mission to help elevate your life through patented nutritional products, life-changing virtual success training, and a unique rewards program.
Elepreneurs actually builds happiness right into our powerful nutritional products. The superior, scientifically backed ingredients stimulate the happiness hormones — dopamine, oxytocin, serotonin, and endorphins — which we refer to as D.O.S.E. For more information, visit www.elepreneur.com.
Recommended Distributors The Happy Co.