Top Leaders Peter Powderham And Shush Arya Join Seacret Direct
February 14, 2021
By Team Business For Home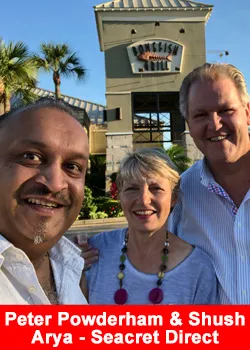 Veteran network marketers Peter Powderham and Shush Arya who respectively have 41 and 18 years' experience in the industry have aligned with Seacret Direct. They come with powerful prior experience having built a global team of over 1 million people in over 40 countries generating in excess of $3 Billion in sales.
Peter Powderham, in his extensive career, has served on the boards of the World Federation DSA (Direct Selling Association) and UK DSA, also served on the UK DSA Legal Task Force 1995-1997.  He has been the CEO/Managing Director of several major MLM companies in Europe including Nu Skin, Synergy, LifeForce International, Quorum and Primetime PLC.
Peter has been part of 5 different companies who have achieved over $1 Billion in annual sales via both field and corporate positions. Peter sees his team as his legacy and wants to help them create their own freedom stories throughout the world.
Shush Arya has 18 years in the industry and has been a top income earner in multiple companies.  He has helped thousands of people create freedom worldwide, is an International speaker, coach & trainer. Shush is passionate about helping others succeed and is the epitome of servant leadership.
On joining forces with Seacret Direct, Peter says:
"This pandemic had a major impact on our previous company so we needed to find an opportunity for our team which will be long term. With experience you learn how to find the right company.

One that aligns with your values and expectations. Seacret delivers the key fundamentals for success in our industry. Delivery of an outstanding product, having systems for collecting the money from customers and paying commissions on time."
Peter and Shush, who are working as business partners at Seacret, have seen unprecedented growth and success in a very short period. Having started in December 2020 their first 4 weeks saw a significant increase in global sales. They have seen a multitude of team members rank up including 5 Diamonds, 3 Blue Diamonds, 2 Red Diamonds and a Crown Agent.  The results have been spectacular.
On joining forces with Seacret Direct and the success they have already achieved, Shush says:
"The success we have witnessed comes down to the deep relationships we have built over the past 10 years. Couple that with training the best MLM trainer in the world, a group of exceptionally loyal leaders and the certainty Peter Powderham brings with his involvement, we know we have found the right home."
Seacret Direct is launching a program for 2021 that will establish Seacret as THE lifestyle company … Agents will be able to offer customers a Seacret lifestyle membership which includes the best in skincare, bodycare, personal care, nutrition products and amenities such as travel. Travel is almost a nine trillion-dollar industry and it rounds out the lifestyle experience Seacret promises to create for customers.
About Seacret Direct
Founded in 2005, Seacret Direct develops, manufactures and sells premium nutrition and skincare products that combine Dead Sea minerals and other clean ingredients with new technologies and scientific breakthroughs. Exclusively manufactured in Israel, Seacret skincare products offer mineral combinations found only in the Dead Sea. Seacret nutrition products are plant centered formulas and supplements for every body. The Seacret membership program rounds out the proposition of the lifestyle company serving an ever-expanding community.
Seacret products were sold in many countries before the company adopted the direct selling business model in 2011. Since then, Seacret continues to be recognized on the DSN Global 100 list for its global impact of the industry on economic and social realms. For more information, visit www.seacretdirect.com.
Recommended Distributors Seacret Direct