Trin & Jirawan Vichaidith From Thailand Achieve $1,3 Million Per Month
February 6, 2021
By Team Business For Home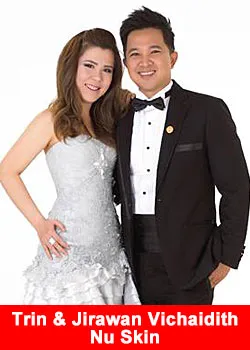 Trin & Jirawan Vichaidith are currently the highest ranked Nu Skin Top Earners and ranked Nr. 3 in the Business For Home Top Earner ranks.
Earlier they stated:
"Everyone can design their own future. Believe in yourself, stand tall and face your challenges."
Believe in yourself that your dream will definitely come true. No matter what happens along the way, don't give up. Always stand tall and fight the challenges bravely. Your life will be different after the new outcome emerges.
Apart from my better well-being, Nu Skin helped me create my own personal life style towards the freedom of time and financial power. I eventually got everything I anticipated for such as a new house, new car, wonderful journeys around the world, and quality time with my lovely family, etc.
However, what I gained was not because of my luck, but because of my real effort in Nu Skin business:
Nu Skin Circle of Excellence III
Nu Skin 3 years Team Elite Platinum
Nu Skin 18 year Presidential Director
About Nu Skin Enterprises, Inc. 
Founded more than 35 years ago, Nu Skin Enterprises, Inc. (NSE) empowers innovative companies to change the world with sustainable solutions, opportunities, technologies and life-improving values. The company currently focuses its efforts around innovative consumer products, product manufacturing and controlled environment agriculture technology.
The NSE family of companies includes Nu Skin, which develops and distributes a comprehensive line of premium-quality beauty and wellness solutions through a global network of sales leaders in Asia, the Americas, Europe, Africa and the Pacific; and Rhyz, our strategic investment arm that includes a collection of sustainable manufacturing and technology innovation companies.
Nu Skin Enterprises is traded on the New York Stock Exchange under the symbol "NUS." More information is available at nuskinenterprises.com.