USANA Q4 Revenue Up 14.5% To $310 Million
February 10, 2021
By Team Business For Home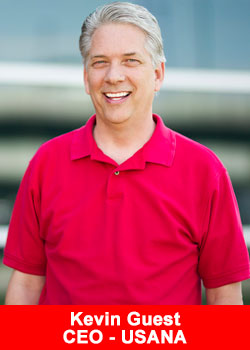 USANA Health Sciences, Inc. (NYSE: USNA) today announced financial results for its fiscal fourth quarter and full-year ended January 2, 2021.
Key Q4 and Full Year 2020 Financial & Operating Highlights
Fourth quarter net sales increased 14.5% year-over-year to $310.5 million.
Fourth quarter diluted EPS increased 32.6% year-over-year to a record $1.87.
Fiscal year net sales increased 7.0% year-over-year to $1.135 billion.
Fiscal year diluted EPS increased 32.9% year-over-year to a record $5.86.
Company provides initial 2021 net sales guidance of $1.21 to $1.27 billion and initial diluted EPS guidance of $6.00 to $6.45.
Board of Directors authorizes up to $150 million in share repurchase authorization.
The Company maintains a 52/53-week fiscal year. Fiscal 2020 was a 53-week year and includes one additional week of sales during the fourth quarter compared to the fourth quarter of 2019. Prior to fiscal 2020, the last 53-week year was in fiscal 2014.
"Our fourth quarter results were better than expected and cap off a year during which USANA delivered remarkable results despite continued challenges from the pandemic,"
said Kevin Guest, Chief Executive Officer and Chairman of the Board.
"During the quarter, demand for our high-quality nutritional products from our loyal consumers remained strong and fueled business momentum. Additionally, changes in currency exchange rates and the additional week of sales during the fourth quarter contributed to growth. As we kick-off 2021, we are confident that we are positioned to deliver another year of solid growth for USANA.
About USANA
USANA develops and manufactures high-quality nutritional supplements, functional foods and personal care products that are sold directly to Associates and Preferred Customers throughout the United States, Canada, Australia, New Zealand, Hong Kong, China, Japan, Taiwan, South Korea, Singapore, Mexico, Malaysia, the Philippines, the Netherlands, the United Kingdom, Thailand, France, Belgium, Colombia, Indonesia, Germany, Spain, Romania, and Italy. More information on USANA can be found at www.usana.com.