4 – 6 June Business For Home Virtual Conference 2021
March 17, 2021
By Team Business For Home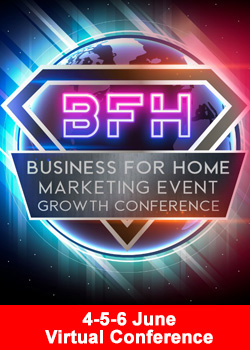 For the Frequently Asked Question Page for the Virtual Conference 2021, please click here
In light of the COVID-19 outbreak and an increased number of cases in the Netherlands and Europe,  we are forced to announce a new date for the Business For Home virtual conference.
Any ticket purchased will be automatically valid for the new date, 4 – 6 June.
Our main concern is to guarantee the health of everyone involved and ensure a high level of attendance from stakeholders around the world.
Due to the increasing number of coronavirus infections and Intensive care hospital admissions in the Netherlands, the Dutch government decided to take very strict measures:

The government requires that everyone travelling to the Netherlands, should have a negative PCR  test no older than 72 hours.

In order to travel to the Netherlands, travellers need to self-quarantine for 10 days.

The Netherlands is currently in a strict lockdown.

The Netherlands is from 9 pm – 5 am in a curfew.
Although a virtual event, during the 3 broadcasting days a significant group of technicians, hosts and speakers need to be in the same TV studio in the Netherlands, to make this high-tech event possible. We cannot ask a number of presenters and hosts traveling from abroad to commit to self-quarantine for 10 days.
We expect that the measures and epidemic situation will be much better in June and we are looking forward to an awesome event.
We invite you to continue with your engagement with this event and will work towards ensuring the same program with an even greater level of participation in June!
For the Frequently Asked Question Page for the Virtual Conference 2021, please click here
Team Business For Home Virtual Conference