Candace Byrd Davis Joins The MyDailyChoice 7 Figure Earner Club
March 8, 2021
By Team Business For Home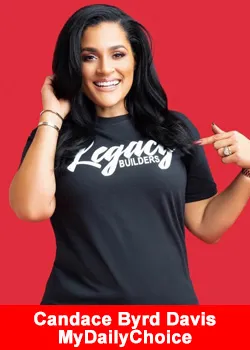 From her fun and insightful training sessions, to her success within the business, to her positive and motivational personality, Candace has become a household name at MyDailyChoice. Within her first couple of years, she has accomplished so much.  Her most recent accomplishment: she is the newest member of the MDC 7 Figure Club for earning over $1,000,000 in commissions.
Family is what inspires her to give the business her all, and the results have been phenomenal. We caught up with Candace for an interview.
Why did you join MyDailyChoice?
"I needed a business model that had an incredible compensation plan, that allowed everyone the opportunity to win. I needed a business that had a powerful product that could sell itself. I joined MDC because of the conversation I had with Founders, Josh and Jenna Zwagil. They were transparent about the business, they explained their passion for the field, the were raw and real with every aspect of their business."
Candace began in Network Marketing in 2014 unsure what to expect, but she knew she had to change her life and legacy. After some trial and error, she finally found the perfect fit with MyDailyChoice, and in her words, "They've been the BEST two years of my life."
Are there any MDC products that have personally impacted you or someone you know?
"There are too many products to name when it comes to what has impacted my life. I have seen people lose incredible amounts of weight while using Trim365, I have witnessed miraculous results for the CBD line of products. I have seen people sleep better, live better and gain overall health. It's one thing to say what the products will do, but to witness it is beyond incredible.
These statements have not been evaluated by the Food and Drug Administration. You do have the option to include the disclaimer at the end of the article.  MyDailyChoice products are not intended to diagnose, treat, cure or prevent any disease.
How has your life changed since you joined MyDailyChoice?
"Honestly, before I made the transition to MDC, I was beginning to hit rock bottom financially. Since joining, I've been able to retire my mother during the pandemic, I bought my son and husband their dream cars, we closed on our dream home."
Candace gave special thanks to her husband, Javon Davis, her sponsors, Robert and Teri Hollis, her sister in business, Antonia Griffin, and to Josh and Jenna Zwagil, "For their fight, their mission, their drive, and their determination."
What drives you to succeed every day?
"What drove my success was my WHY. The (W)hat (H)urts (Y)ou part of my life. I knew I needed to reach a new level of success, one that would provide a legacy for my family and one that would let me help others build legacies for their families. What drove me was truly engaging in a VISION that was bigger than myself. I knew that not only did I have to get a solid foundation, I also need to "go first" for the other families that I come in contact with. The products and compensation plan made it much easier to accomplish."
You've already accomplished so much, what are your future goals with the company?
"My goal in the coming years is to help  others achieve Super Affiliate. I'm a firm believer that in order to hit the goal you have to know what the goal is. I know my personal goal for how many people I want to help earn a six figure income in 2021.
Candace has been an incredible influence for so many along her journey, but she says she's just getting started. When asked what she wanted to say to others who might be in the situation she was in only a couple years ago she replied:
"It's time to break the broke cycle. It starts with one word, "YES," because it's true, when you want to succeed as bad as you want to breathe then you will be successful."
About MyDailyChoice
MyDailyChoice, Inc., based in Las Vegas, NV, is the global leader for pure CBD products, the finest essential oils, exclusive travel deals, and wellness and performance products. With thousands of active Affiliates worldwide and five unique brands – HempWorx, Mantra Essential Oils, High Life Travel, Daily Sprays and Akashx – MyDailyChoice is a recognized leader in the Direct Selling Industry.
MyDailyChoice brings its mission to empower families with the opportunity to be physically and financially healthy. MyDailyChoice's 100% commitment to innovation continuously brings customers and Affiliates the highest quality and latest product breakthroughs in the wellness space, supporting holistic lifestyles and the entrepreneurial spirit.
For more information, please call +1 (888) 877-5436 or visit www.mydailychoice.com.
The are no guarantees regarding the income from the MyDailyChoice/HempWorx opportunity. The success or failure of each Affiliate, like in any other business, depends upon each Affiliate's skillset and personal effort.
Earning levels for Independent Affiliates are examples and should not be construed as typical or average. Income level achievements are dependent upon the individual Affiliates business skills, personal ambition, time, commitment, activity and demographic factors. To view the MyDailyChoice Income Disclosure Statement, click here.
Recommended Distributors MyDailyChoice