Dr. Yi Che Wu Achieves Blue Diamond Rank At Seacret Direct
March 3, 2021
By Team Business For Home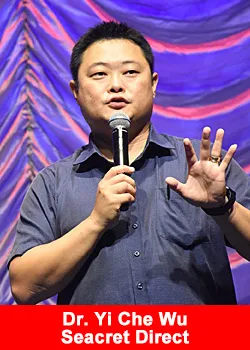 Understanding how to go beyond self-imposed borders of business success is one of the many milestones that Dr. Yi Che Wu can call his own. According to Dr. Wu, reaching Seacret Direct Blue Diamond status is one of many destination points in his career that will always keep him moving forward.
"I consider myself a work in progress," Dr. Wu comments, adding "There's a Chinese saying: There is always another mountain that is higher.

I take it to mean there is always someone that can do something better than you. It keeps my feet on the ground and serves as a constant reminder to keep striving…."
What is next in his list of future accomplishments? Attaining the top Seacret Agent Rank of Crown Royale. His plan is to nurture relationships and share Seacret products to achieve his dream.
For Dr. Wu, a solid network marketing platform is the building block for limitless growth.
"I've worked with a few companies in my 12-year career. Seacret stands out among them. With so many solutions to offer customers and prospects for skincare, body care, personal care, and nutrition, there's something for everyone to get behind and prosper."
Izhak Ben Shabat, Seacret Direct Founder & CEO, looks to Dr. Wu as an integral part of expanding global presence for the company.
"The value of cultural resourcefulness and product marketing is immeasurable. We look forward to seeing more of the success already evident in Dr. Wu."
Pinpointing what drives this Blue Diamond to do more, Dr. Wu attributes his desire to being his best for family and fellow Agents, as well as his love for travel. He yearns to "get on a motorcycle…backpack to strange places…and experience new cultures."
About Seacret Direct
Founded in 2005, Seacret Direct develops, manufactures and sells premium nutrition and skincare products that combine Dead Sea minerals and other clean ingredients with new technologies and scientific breakthroughs.
Exclusively manufactured in Israel, Seacret skincare products offer mineral combinations found only in the Dead Sea. Seacret nutrition products are plant centered formulas and supplements for every body. The Seacret membership program rounds out the proposition of the lifestyle company serving an ever-expanding community.
Seacret products were sold in many countries before the company adopted the direct selling business model in 2011. Since then, Seacret continues to be recognized on the DSN Global 100 list for its global impact of the industry on economic and social realms.  For more information, please visit seacretdirect.com.
Recommended Distributors Seacret Direct