Jeunesse Welcomes Rod Larsen As Chief Operating Officer
March 31, 2021
By Team Business For Home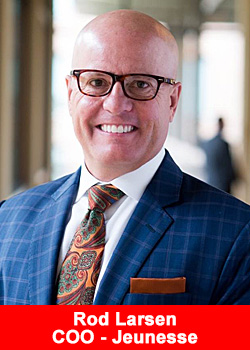 Jeunesse has welcomed Rod Larsen as the company's Chief Operating Officer. Rod brings a wealth of experience to the role, having personally generated nearly two billion dollars in revenue during his 25-year career in the direct selling industry.
"Rod is a true professional with an impressive track record of spearheading the operations of fast-growing, global organizations, and we are so pleased to welcome him to the Jeunesse Family,"
said Jeunesse Chief Visionary Officer Scott Lewis.
"With his depth of experience in the industry, we are confident Rod will play a key role in furthering our mission to help our global family of Distributors achieve their dreams, while igniting the vision that will drive our success in 2021and beyond."
Rod's experience includes nearly a decade as President and Chief Executive Officer of a Top 100 direct selling company, which he grew from $0 to $200 million in annualized revenue. Under Rod's tenure, this company expanded its products from one country to 50. Prior to that role, he co-founded a telecom direct sales business in 2002, and in the 1990s, he was a Senior Director at another leading direct selling company, managing more than 50 employees.
With a master's degree from The University of Texas McCombs School of Business and a bachelor's degree in business management from the Brigham Young University Marriott School of Business, Rod's impressive career has been built on a solid foundation of education.
Rod is excited to join the Jeunesse Family stating,
"Randy Ray and Wendy Lewis are legendary icons in the industry, and their passion for the Jeunesse Family is evident. My commitment with Scott and the entire Jeunesse corporate team is to accomplish our singular goal — to deliver on the Jeunesse promise of Redefining Youth through our revolutionary products and lifechanging opportunities."
About Jeunesse
Jeunesse is a global direct selling company with a mission to positively impact the world by helping people Look, Feel and Live Young, while empowering them to unleash their potential. The company's exclusive skin care, beauty and wellness products form a comprehensive Y.E.S. Youth Enhancement System.
With multilingual Distributor Support, back-office support, and a global enrollment system, Jeunesse utilizes a cutting-edge platform to share innovative products, training, and support through 32 fully operational offices to markets in more than 145 countries. Learn more at jeunesseglobal.com.
Recommended Distributors Jeunesse