NewAge, Inc. Announces Lucrative Partnership With Japan-based Aliven, Inc.
March 8, 2021
By Team Business For Home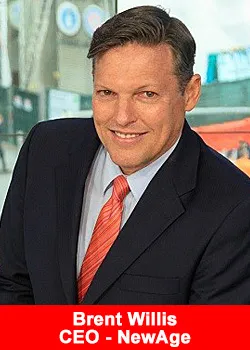 NewAge, Inc. (Nasdaq: NBEV), the Colorado-based omni-channel social selling and distribution company, today announced that it has entered into a letter of intent to acquire Aliven, Inc., a Japan-based direct selling company, adding them to the NewAge portfolio of e-commerce and direct selling brands.
As another successful company to be added to the NewAge social-selling portfolio, Aliven is anticipated to bring approximately $25 million in annualized revenue to the Japan market and thousands of independent representatives to further expand  the presence in the company's top market.
Established 15 years ago, Aliven Inc. is one of Japan's most well-respected companies in the country's > $16B network marketing industry and sells a portfolio of differentiated health products related to the cutting-edge field of far infrared technology. Aliven has responded to changes caused by the global pandemic by immediately offering more products designed to improve health and wellness to its network of representatives and shifting the business channel from primarily offline to 96% online in 2020.
"We see this latest partnership as an opportunity to expand our Japan market at an even faster pace," says NewAge Chief Executive Officer Brent Willis.

"We will begin our integration plan immediately, as we first move to cross-pollinate our products and business platform. Our vision for this union is large-scale and not only creates more opportunities for all of our representatives but furthers our vision to become the world's leading social selling and distribution company through strengthening a key market for NewAge."
Both companies find synergies in their respective products and dedication to finding wellness solutions for today's consumers. This partnership will enhance the portfolio of Aliven's healthy products — unrivaled in the industry — and expand the direct selling investing depth in e-commerce, providing support to independent representatives.
Key Highlights
By moving forward with this transaction, NewAge believes that over the next 6-12 months, it will:
Increase sales opportunities and growth in the Japan market displaying NewAge's resilience, forward-thinking growth strategies, and commitment to all NewAge Independent Product Consultants (IPCs) and Representatives in Japan.
Supplement and strengthen Aliven's field leadership culture and confidence by implementing NewAge's unique distributor ranking, recognition and loyalty rewards programs.
Broaden the scope of the NewAge network in Japan by adding over 150,000 independent representative contracts to the NewAge 450,000 global independent representative base.
Open the opportunity for global expansion for Aliven representatives to further build their business.
"By integrating the strengths and talents of the international multi-level marketing sector with NewAge, we at Aliven will have numerous opportunities for professional, personal and financial growth," says Yasuyuki Oi, President of Aliven. "There will be no more boundaries and this opportunity will only provide Aliven Distributors with more resources, more products, and the opportunity for greater international expansion."
About Aliven
Aliven, Inc. is a 15-year-old Japanese corporation that has distributed products and services to the Japanese people that are focused on improving their quality of life. Aliven distributes Invel® products, and others, through a network of over 150,000 distributors, there are over 70 Invel Biodome Salons, plus e-commerce operations in Japan. Invel® has invested 27 years of cutting-edge scientific research in Brazil and Japan into its patented (in 29 countries) far-infrared bio-ceramic MIG3® technology.
Invel has integrated it into everything from socks and t-shirts to pajamas, pillow tops, underwear, shirts, socks, shoe insoles and other items, embedded within the textiles, outside of the thread, which makes the unique difference. Other medical devices — even cosmetics — are available in Japan, as well. To learn more about Aliven, visit www.aialliance.co.jp.
About NewAge, Inc.  (NASDAQ: NBEV) 
NewAge is a Colorado-based organic and healthy products company dedicated to inspiring and educating consumers to "Live Healthy." The Company is an omni-channel distribution company with access to traditional retail, e-commerce, direct-to-consumer, and medical channels across more than 50 countries spanning 6 continents. NewAge markets a portfolio of differentiated healthy, functional brands in three distinct categories, including Health & Wellness, Inner & Outer Beauty, and Nutrition & Weight Control. With full-service functions established in 22 countries and a total of 55 corporate offices worldwide providing a strong and direct line of support to regional consumers and brand ambassadors.