Seacret Direct Presents Club Seacret Delivering Lifestyle Experience
March 2, 2021
By Team Business For Home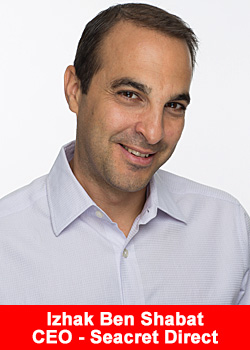 An eager audience of Seacret Direct Agents across the world were the first to virtually witness the preview launch of Club Seacret over the weekend. The exclusive membership offering brings another layer of world-class benefits to Seacret Agents and customers in how they live well and expand personal horizons.
Membership unlocks a range of benefits including an online travel booking portal, curated adventures in beautiful places, personal development masterclasses and coaching, signature clothing and accessories, in addition to automatic VIP status to enjoy Seacret skincare and nutrition products.
Long awaited launch delivers on promise to be THE Lifestyle Company.
The Club Seacret preview was launched at the premier Accelerate event with a presentation by Crown Royale Agent Jesse Macpherson who offered insights about Club benefits and hinted about more to come. World-Class trainer, Marc Accetta, rolled out the details explaining how best to integrate the Club Seacret membership with existing offerings.
Secret Founder & CEO Izhak Ben Shabat believes in taking success already realized, and making it better for individuals, their families, and the overall community. He states that,
"Seacret Direct is THE lifestyle company and this remains a vision, turned reality—a promise made and kept with Club Seacret." Through this promise, top-tier network marketing leaders understand and embrace the potential for themselves and their teams for a brighter future.
With this exclusive membership opportunity, The Good Life is approachable. By expanding its Agent network and bringing the community together in service to one another, Club Seacret is the destination point for THE lifestyle most desired.
Membership is available worldwide, excluding some markets that will open within the next few months.
The benefits available to Club Seacret members are centered around people, places, and products. Seacret strives to create a lifestyle brand and Club Seacret delivers on the promise of living a life rich with meaning. Club Seacret is complete with opportunities that promote personal transformation.
The promise is a thread that ties together nutrition, skin care and body care to support looking and feeling your best to exploring new places through tailored escapes; from connecting within and with others or challenging oneself to discover new knowledge. Nurturing and building relationships that run deeper than before is at the heart of Seacret. Inspiration, motivation, and fortitude to do more than ever imagined—this is Club Seacret.
Joining Club Seacret is timely as it presents a ready-made growth opportunity through a global platform. Membership helps identify and attract industry talent while creating a special space for Agents to nurture, inspire, and thrive personally and collectively.
About Seacret Direct
Seacret Direct is a service driven company. Launched with a direct-to-consumer model selling premium Dead Sea skincare products through kiosks, Seacret became the world leader in the space. From the lowest point on earth, with over 20 years of expertise and mastery, Seacret Minerals from the Dead Sea unlocks the potential of this legendary beauty spa that seduced Cleopatra and brings it directly to customers worldwide.
Founded in 2005, Seacret Direct develops, manufactures and sells premium nutrition and skincare products that combine Dead Sea minerals and other clean ingredients with new technologies and scientific breakthroughs. Exclusively manufactured in Israel, Seacret skincare products offer mineral combinations found only in the Dead Sea. Seacret nutrition products are plant centered formulas and supplements for every body. The Club Seacret membership program rounds out the proposition of the lifestyle company serving an ever-expanding community.
Seacret products were sold in many countries before the company adopted the direct selling business model in 2011. Since then, Seacret continues to be recognized on the DSN Global 100 list for its global impact of the industry on economic and social realms.
For more information, visit seacretdirect.com or clubseacret.com.
Recommended Distributors Seacret Direct