Business For Home Virtual Conference – Matt Morris Interviewed By Andreea Cimbala
April 9, 2021
By Team Business For Home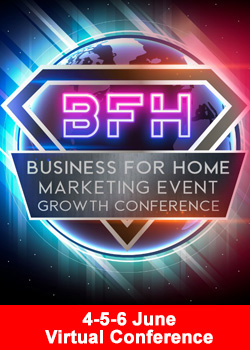 For the Business For Home Virtual Conference Top Leader Matt Morris (USA) is interviewed by Andreea Cimbala. (NL) Both Matt Morris as Andreea Cimbala will be speakers at the upcoming Business For Home Virtual Conference 4-6 June.
Matt Morris, over the past 25+ years in NetworkMarketing, generated over $2 Billion in Sales.
Lead Teams That Have Grown to Over 2 Million Customers
Become a Self-Made Millionaire at 29
Become the #1 Earner in 3 Companies
(One that has done over $3 Billion in Revenues)
Author or Co-Author 10 bestselling books
Build a Team Producing Over 50 Million Dollar Earners
Speak to Audiences in 35 Countries Across 6 Continents
Build a Following of Over 700,000 People on Social Media
His 7 strategies to success were the guiding principles that allowed him to go from homeless, to multi-millionaire. This is dramatically different from anything else because these strategies work no matter what company you're involved in.
Andreea Cimbala, 26 years young, and mother of a boy and a girl, was born in Italy. Together with her husband Igor Alberts, she resides in the Netherlands.  Their combined career earnings in Network Marketing is over $140+ million.
A ticket is just $35 for all 3 days!
Network Marketing Professionals from around the world will come together in an immersive generic training experience.
Using the latest and most advanced technology and audio/video equipment available, we will bring you 3 days of the best of the best training anywhere available for an unparalleled price, broadcasted from an impressive TV studio in the Netherlands.
It is delivered to you in a completely generic format. No companies or products are ever mentioned, so you will feel safe to share this ultimate training event with your Team!
Emerge from this new era as a true leader.
Unveil the secrets of influential network marketeers from all over the work at our event.
There is no better place to invest in yourself than the upcoming Business for Home Virtual Growth Conference
A three-day life changing experience that features renowned legends and rising stars.
Learn how to excel in your business and be empowered by successful leaders.
How to develop a million-dollar mindset.
How to develop the skills necessary for success in Network Marketing
How to develop strategies to help you grow faster,
How to increase retention.
How to create more duplication.
How to keep your team engaged.
How to develop yourself as a world-class leader in Network Marketing.
How to identify people with leadership potential.
How to help your leaders.
How to create an exciting and executable game plan.
A ticket is just $35 for all 3 days!
Young network marketing leaders, fast rising stars, as their mentors will share their methods and "secrets" to recruit, team up and build a large organisation.
32+ Top speakers from Asia, Europe, Africa, Latin America, Middle East and the USA!