Candace Byrd Davis Achieves 500k Rank At MyDailyChoice
April 20, 2021
By Team Business For Home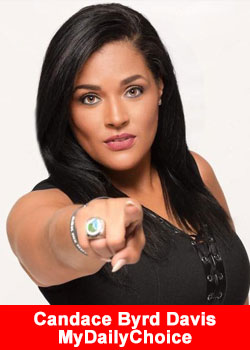 MyDailyChoice is proud to announce Candace Byrd Davis has hit yet another milestone, achieving 500k rank shortly after her inauguration into the 7 Figure Club.*
Candace has been on fire the last couple of months, propelling herself and her team to achieve success at a blistering pace. Brimming with energy, enthusiasm, and positivity, Candace leads her team to success.
Candace stated:
"I have become laser-focused on individual leader goals, getting 50k's to 100k, 100k to 250k, not just team goals. We focus on each individual branch and what they want to accomplish. We had a lot of zoom meetings with teams, we would structure our goals and if I knew someone wanted to reach 100k we'd break it down to daily goals and we would not stop until those goals were achieved for that day."

"The people that got you to 100k won't get you to 250k, the people that got you to 250k won't get you to 500k. I focus on constantly building my team and acquiring new customers to grow sales. I try to lead with love and respect."
Every day her team begins with gratitude, affirmations, and mindset statements before going, "balls to the wall." The results are evident. Over the last month, her team has seen unprecedented new 1k and 5k ranks.
Sometimes as a leader you get going so fast it can be hard to grab new people and bring them along with you so we stay focused on bringing new affiliates along on our journey to success.

"It's time to break the broke cycle. It starts with one word, "YES," because it's true, when you want to succeed as bad as you want to breathe then you will be successful."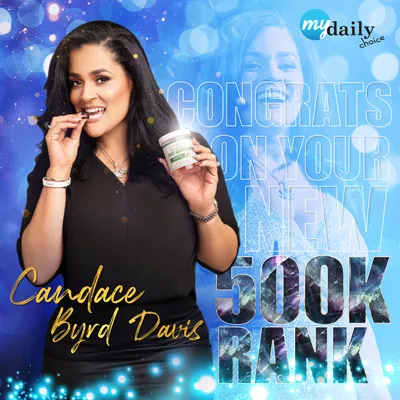 About MyDaily Choice
MyDailyChoice, Inc., based in Las Vegas, NV, is the global leader for pure CBD products, the finest essential oils, exclusive travel deals, and wellness and performance products. With thousands of active Affiliates worldwide and five unique brands – HempWorx, Mantra Essential Oils, High Life Travel, Daily Sprays and Akashx – MyDailyChoice is a recognized leader in the Direct Selling Industry.
MyDailyChoice brings its mission to empower families with the opportunity to be physically and financially healthy. MyDailyChoice's 100% commitment to innovation continuously brings customers and Affiliates the highest quality and latest product breakthroughs in the wellness space, supporting holistic lifestyles and the entrepreneurial spirit.
For more information, please call +1 (888) 877-5436 or visit www.mydailychoice.com.
*The are no guarantees regarding the income from the MyDailyChoice/HempWorx opportunity. The success or failure of each Affiliate, like in any other business, depends upon each Affiliate's skillset and personal effort.
Earning levels for Independent Affiliates are examples and should not be construed as typical or average. Income level achievements are dependent upon the individual Affiliates business skills, personal ambition, time, commitment, activity and demographic factors. To view the MyDailyChoice Income Disclosure Statement, click here.
Recommended Distributors MyDailyChoice