Christine Smith Achieves Royal Black Diamond Rank At The Happy Co.
April 13, 2021
By Team Business For Home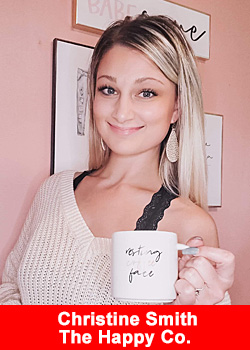 Christine Smith and her husband experienced the unimaginable with the loss of their son, Maverick, 20 weeks into Christine's pregnancy. "It was devastating and left me in shambles both mentally and emotionally," she says.
"I wasn't able to do much around the house, and I wasn't being the mom I wanted to be; everything felt impossible."
A month into her grief journey, Christine was introduced to The Happy Co., and that's when things changed. "I found hope in the form of a coffee sachet," she says.
"After my first cup and cap, I knew I had to share these products with others."
That was the impetus for Christine signing on as a brand partner. The 31-year-old Montana mother is raising her four children — 9-year-old Kaydense, 8-year-old Ayden, 5-year-old Von and 10-week-old Leo — "and I'm currently homeschooling my two oldest," she says.
Through The Happy Co., Christine not only found mental fortitude and a way of navigating through her grief, she says she found support, integrity and heart.
"From top to bottom, the people in this company operate from a place of integrity. Our corporate staff has such an incredible relationship with the field, and our team is like a big family, helping and supporting each other daily."
These factors, Christine explains, make it simple to achieve within the business. And, of course, the exceptional products help, too. "I have always been an advocate for mental health. It is something that has been a huge part of my life and affected not only myself but so many people that I love," she says.
"These products are literally formulated to make people happy. I couldn't imagine a better fit for me."
Christine says the products have not only given her a life back, the business also has afforded her family many opportunities. "We now live a life with so much more freedom both financially and time-wise," she says.
"This last year I've been able to be home giving my kids an education, going on adventures and never missing a moment — all while bringing in a mind-blowing income that has also allowed us to give back to others!"
Giving back also means making The Happy Co. community all-inclusive — "from online influencers to grandmas," she says.
"We have so many different people from different walks of life, and we all pour into each other and learn from one another daily."
As a full-time brand partner who recently reached Royal Black Diamond status, Christine advises others to believe in what they're doing and what they're sharing: "If you can lead with your heart full of belief nothing can stop you!"
ABOUT THE HAPPY CO.
The Happy Co., formerly Elepreneurs, launched in February 2021 with an established foundation of successful nootropic, functional beverage products that enhance mood, boost energy, enhance sleep, and make you look and feel like a younger person.
The Happy Co. starts with products but does not end there. We are a lifestyle and a dose of happy. For more information about The Happy Co. go here.
Recommended Distributors The Happy Co.