Industry Leader Sven Goebel Special Guest At The Business For Home Virtual Conference
May 26, 2021
By Team Business For Home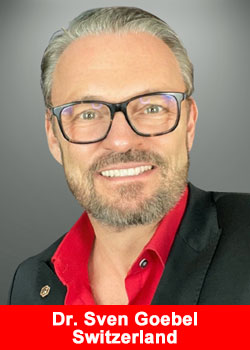 Dr. Sven Goebel looks back on almost 30 years of experience within the Network Marketing industry. He started his career as an independent business owner back in February 1992.
Today, Sven is a recognized industry leader, public speaker, coach, consultant and today the founder of a fast growing Network Marketing Company from Europe. He functions as a role-model for Network Marketers from all over the world across all generations.
As a result of his impressive career over the past three decades, he is constantly been featured in numerous papers, magazines, radio- and TV shows, as well as invited to many network marketing events around the world as a distinguished speaker.
We at BFH are excited to welcome Sven on our virtual stage June 4-6th.
—
The (English spoken) Virtual conference will be translated in:
Spanisch
Italian
Russian
Arab
German
French
Network Marketing Professionals from around the world will come together in an immersive generic training experience.
Using the latest and most advanced technology and audio/video equipment available, we will bring you 3 days of the best of the best training anywhere available for an unparalleled price, broadcasted from an impressive TV studio in the Netherlands.
A ticket is just $35 for all 3 days!
Young network marketing leaders, fast rising stars, as their mentors will share their methods and "secrets" to recruit, team up and build a large organisation.
30+ Top speakers from Asia, Europe, Africa, Latin America, Middle East and USA.
NO HYPE, BUT PURE KNOWLEDGE    
It is delivered to you in a completely generic format. No companies or products are ever mentioned, so you will feel safe to share this ultimate training event with your Team!
Emerge from this new era as a true leader.
Unveil the secrets of influential network marketeers from all over the work at our event.
There is no better place to invest in yourself than the upcoming Business for Home Virtual Growth Conference
A three-day life changing experience that features renowned legends and rising stars.
Learn how to excel in your business and be empowered by successful leaders.
How to develop a million-dollar mindset.
How to develop the skills necessary for success in Network Marketing
How to develop strategies to help you grow faster,
How to increase retention.
How to create more duplication.
How to keep your team engaged.
How to develop yourself as a world-class leader in Network Marketing.
How to identify people with leadership potential.
How to help your leaders.
How to create an exciting and executable game plan.