László Zsolt Kun From Hungary Achieves 250k Rank At MyDailyChoice
May 18, 2021
By Team Business For Home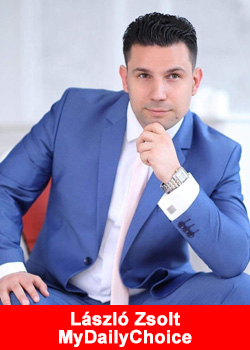 The Hungary market has been on fire, and László Zsolt Kun has been at the forefront of this incredible expanding opportunity. He has reached yet another milestone in his lightning-fast rise at MDC, achieving 250k Rank in only 17 months! A new father of a 5-month-old baby boy, László had been in the MLM industry for 15 years prior to joining MDC. What made the difference for him was the quality of the product line and an Affiliate-first compensation plan offering 7 ways to get paid.
"I've been working in MLM for 15 years, and I was a private sales director before that, but it wasn't until I joined MDC that things really began to fall into place. My goal has always been to help others make their dreams come true, and now I'm able to! I have never been with an innovative company like this."
László enjoys football, traveling, and skiing in his spare time. Most of all though, he enjoys having the freedom to spend time with his newborn son.
"I learned how to work from home, grow my business, and help develop other MDC Leaders.  Thanks to the home office I can see my baby growing up, this is thanks to the support MyDailyChoice offers with their marketing and online tools."
László had a lot of support along the way and wanted to give a special thanks to his wife who supports the business, the Adam family, who introduced him to MDC, his father, Dr. László Kun who also joined MDC and teaches and supports the team, Sándor Dobi for being a marketing mentor, Tamás Gál for helping to develop their system, and Robert Hollis for being an inspiration.
László's next goal is to help 20,000 people reach Super Affiliate, and within the next three years help 100,000 people reach that milestone and to become a Master Affiliate himself. Everyone at MDC is confident he'll reach his goals and so much more. Congratulations to László Zsolt Kun once again for this amazing achievement.
About MyDailyChoice
MyDailyChoice, Inc., based in Las Vegas, NV, is the global leader for pure CBD products, the finest essential oils, exclusive travel deals, and wellness and performance products. With thousands of active Affiliates worldwide and five unique brands – HempWorx, Mantra Essential Oils, High Life Travel, Daily Sprays and Akashx – MyDailyChoice is a recognized leader in the Direct Selling Industry.
MyDailyChoice brings its mission to empower families with the opportunity to be physically and financially healthy. MyDailyChoice's 100% commitment to innovation continuously brings customers and Affiliates the highest quality and latest product breakthroughs in the wellness space, supporting holistic lifestyles and the entrepreneurial spirit.
For more information, please call +1 (888) 877-5436 or visit www.mydailychoice.com.
There are no guarantees regarding the income from the MyDailyChoice/HempWorx opportunity. The success or failure of each Affiliate, like in any other business, depends upon each Affiliate's skillset and personal effort.
Earning levels for Independent Affiliates are examples and should not be construed as typical or average. Income level achievements are dependent upon the individual Affiliates business skills, personal ambition, time, commitment, activity and demographic factors. To view the MyDailyChoice Income Disclosure Statement, click here.
Recommended Distributors MyDailyChoice