Medifast (Optavia) Q1 Revenue Up 91% To $341 Million
May 5, 2021
By Team Business For Home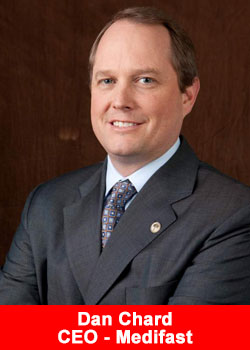 Medifast, Inc. (NYSE: MED), the global company behind one of the fastest-growing health and wellness communities, OPTAVIA®, today reported results for the first quarter ended March 31, 2021.
First Quarter 2021 Highlights Compared to the Prior-Year Period
Revenue increased 90.9% to 

$340.7 million

61.0% growth in active earning OPTAVIA Coaches to a record level of 52,500
Revenue per active earning OPTAVIA Coach increased 21.0% to 

$6,454

Net income increased 122.2% to 

$41.1 million

Earnings per diluted share ("EPS") of 

$3.46

, an increase of 121.8%
"This has been an exceptional quarter of growth and productivity, reflecting the outstanding abilities of both our independent OPTAVIA Coaches and our employees,"
said Dan Chard, Chairman and Chief Executive Officer of Medifast.
"We now have a record 52,500 OPTAVIA Coaches who are achieving new productivity highs by leveraging technology to support Clients and support new OPTAVIA Coaches. These technologies include our own app-based platforms as well as social media channels and field-led training platforms.
Consumer interest in health and wellness remains high, and the strength of the OPTAVIA coach-based model and its role in transforming lives has continued to attract robust numbers of new Clients.
By harnessing demand and leveraging our organizational capabilities, we have amplified revenue and earnings growth to record levels. We're continuing to build infrastructure to capitalize further on future growth opportunities, while also maintaining a strong balance sheet and prioritizing capital allocation to drive long-term stockholder value."
First Quarter 2021 Results
First quarter revenue increased 90.9% to $340.7 million from revenue of $178.5 million for the first quarter of 2020. OPTAVIA-branded products represented 88.9% of consumable units sold for the first quarter compared to 79.0% for the same period a year ago.  Consistent with business and brand strategy, the company decided to sunset the Medifast-branded product line by the end of the second quarter of 2021.
The total number of active earning OPTAVIA Coaches increased 61.0% to 52,500 compared to 32,600 for the first quarter of 2020. The average revenue per active earning OPTAVIA Coach was $6,454 compared to $5,333 for the first quarter last year, an increase of 21.0%.
Recommended Distributors Optavia – Medifast