Sándor Dobi Achieves 250k Rank At MyDailyChoice
May 24, 2021
By Team Business For Home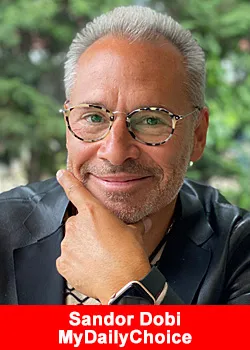 MyDailyChoice (MDC) is proud to announce that Sándor Dobi is our most recent Affiliate to achieve 250k Rank.
Sándor hails from Hungary and is the proud father of three, with a background as varied and dynamic as his personality. He's been a dentist, personal stylist, designer, and a well-known pop-artist with multiple gold and platinum records in his home country.
Today, his passion is MLM because of its ability to create value and to help more families more effectively. He's been in the industry for 18 years, at one point leading a team in the tens of thousands. He made his move to MDC in 2019 and couldn't be happier.
"I really believe that with these amazing products and opportunities, we can transform the life and vision of so many people, not just in Hungary, but around the world.

We try to inspire others to be ambassadors of a conscious and healthy life. MyDailyChoice has the highest quality products on the market, an unbeatable compensation plan, and a philosophy I believe in."
Stated Sándor Dobi.
His goal is to reach as many people as possible, and to help them achieve a better life, he says he'd also like a gorgeous beachside house in the Mediterranean.
"I couldn't be more thankful for my team and the amazing leaders. I'm also very happy I met the Kun and Ádám family, Robert Hollis and Josh and Jenna Zwagil. The House of Brands, the high quality products, are the best tools for making a change in your life."
About MyDailyChoice
MyDailyChoice, Inc., based in Las Vegas, NV, is the global leader for pure CBD products, the finest essential oils, exclusive travel deals, and wellness and performance products. With thousands of active Affiliates worldwide and five unique brands – HempWorx, Mantra Essential Oils, High Life Travel, Daily Sprays and Akashx – MyDailyChoice is a recognized leader in the Direct Selling Industry.
MyDailyChoice brings its mission to empower families with the opportunity to be physically and financially healthy. MyDailyChoice's 100% commitment to innovation continuously brings customers and Affiliates the highest quality and latest product breakthroughs in the wellness space, supporting holistic lifestyles and the entrepreneurial spirit.
For more information, please call +1 (888) 877-5436 or visit www.mydailychoice.com.
There are no guarantees regarding the income from the MyDailyChoice/HempWorx opportunity. The success or failure of each Affiliate, like in any other business, depends upon each Affiliate's skillset and personal effort.
Earning levels for Independent Affiliates are examples and should not be construed as typical or average. Income level achievements are dependent upon the individual Affiliates business skills, personal ambition, time, commitment, activity and demographic factors. To view the MyDailyChoice Income Disclosure Statement, click here.
Recommended Distributors MyDailyChoice