David Moses Inducted In The Isagenix Legacy Millionaire Club
June 16, 2021
By Team Business For Home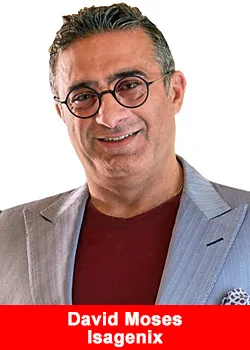 Isagenix co-founder Kathy Coover stated upon David Moses achievement:
The Isagenix Legacy Club is excited to announce our newest Isagenix Millionaire #348, David Moses.

This is such an incredible milestone to reach and we are so excited for you to start this next chapter of your journey with Isagenix! Please join us in celebrating our newest Isagenix Millionaire.
David Moses said:
All the credit belongs to our organization, all 200 hundred thousand members and growing. Success is only possible with highly effective leaders, I thank all of you too many to mention.

Special thanks to all the new rising stars, and of course a great company with exquisite products. Thanks all….committed to your success.
About Isagenix International
Established in 2002, Isagenix International believes that everyone deserves to experience a healthy, joyful, and abundant life. The global wellbeing company artfully crafts more than 175 effective products and offers a supportive community for its more than 550,000 customers worldwide.
Isagenix shares its products through a network of independent distributors in 26 markets: the United States, Canada, Puerto Rico, Hong Kong, Australia, New Zealand, Taiwan, Mexico, the United Kingdom, Ireland, the Netherlands, Belgium, Spain, South Korea, Austria, Denmark, Finland, France, Germany, Italy, Japan, Norway, Poland, Portugal, Sweden, and Switzerland. The private family-owned company has its world headquarters in Gilbert, Arizona. For more information, visit Isagenix.com.
Recommended Distributors Isagenix