Former Sushi Chef Masami Fukusumi Achieves White Diamond Status At Vasayo
June 10, 2021
By Team Business For Home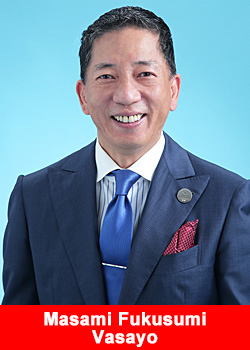 As a successful sushi chef and restaurant owner in Japan, Masami Fukusumi had no desire to pivot into the world of network marketing when in 1998 a friend invited him to attend a meeting.
"I declined my friend's invitation several times, but he was so persistent," Fukusumi recalls. "So, I planned to attend one meeting and then decline once and for all."
Four months later, Fukusumi sold his sushi restaurant and became a full-time network marketer.
"The business model really impressed me," Fukusumi says. "I had no experience in the industry, but I worked very hard and took my upline leaders' advice."
Over the ensuing decades, Fukusumi has learned many lessons from his network marketing career, one of which led him to joining Vasayo.
"I've learned that there are not many companies in this industry that can truly be called five-star companies," Fukusumi says. "When I heard about [Vasayo Founder & Chairman] Dallin Larsen's achievements, Vasayo's financial strength, and the company's Advanced Delivery Technology,
I knew I had found a company that had all the right elements—not to mention my family and I honestly have never had better experiences with supplements than we have with Core Complete, V-Tox, Sleep, Renew, and V-Mune. We are healthy and will continue to share Vasayo's greatness!"
As a White Diamond leader, Fukusumi is generous with his advice to fellow network marketers. He says that success comes when Brand Partners work with a focused intent on achieving their goals, sharing the opportunity with anyone who comes to mind and being okay with hearing the word "no."
"My philosophy is to always enjoy my work," he says. "When things are going well, I work hard to the fullest. When things are not going well, I change my pace and go back to the basics by listening to the counsel of my experienced and accomplished mentors.
Above all else, I always enjoy the process and remember that 'your success is my success.'"
About Vasayo
Vasayo is a direct sales company based in Pleasant Grove, Utah. For passionate people who seek abundance in life, we create products that promote wellness, enhance beauty, and support daily renewal. Through our science, we maximize the delivery of nutrients to the human body using liposomal technology and other advanced delivery systems.
And through our mission to bless 1 million lives, we empower our Brand Partners to change the world. For more information, visit vasayo.com. Follow Vasayo on Facebook or Instagram.
Recommended Distributors Vasayo