Global Business Veteran Fai Chan Expects Big Future For The Happy Co.
June 9, 2021
By Team Business For Home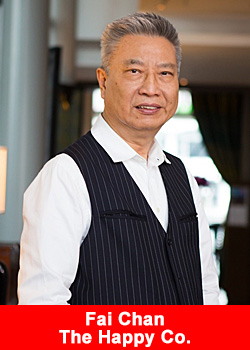 The Happy Co., a leading producer and distributor of nootropic, functional beverage products with a focus on health and wellness, is in a steadfast pursuit of impressive growth with Global Executive Chairman Fai Chan leading the way.
The global business veteran has a legendary track record of turning more than 35 corporations into multibillion-dollar successes across a variety of industries, including banking, property, hospitality, travel, utility, health and technology. Under his leadership, Chan's companies have successfully achieved an average of 69 percent compound annual growth rate with an average of 48-times returns for each investment.
He is planning the same growth trajectory for The Happy Co., setting a goal to grow the company to the billion-dollar mark. At the same time, Chan has a personal passion for sharing health, wealth and happiness with others – something he hopes to realize through the growth of The Happy Co.
 "Our $1 billion revenue benchmark is only just the beginning,"
said Chan. With his leadership and vision to transform the company using his wealth of expertise and know—how, The Happy Co. is poised to become the most respected company in the industry.
ABOUT THE HAPPY CO.
The Happy Co., formerly Elepreneurs, launched in February 2021 with an established foundation of successful nootropic, functional beverage products that enhance mood, boost energy, enhance sleep, and make you look and feel like a younger person.
The Happy Co. starts with products but does not end there. We are a lifestyle and a dose of happy. For more information about The Happy Co., visit www.thehappyco.com.
Recommended Distributors The Happy Co.