High Customer Satisfaction Fuels Vasayo Diamond To Keep Sharing
June 24, 2021
By Team Business For Home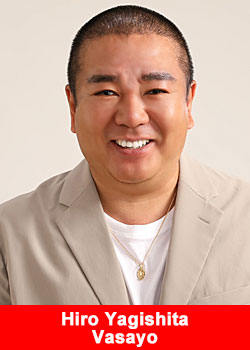 "I live a healthy life with peace of mind because I get solid, daily nutrition from my favorite supplements, Core Complete and Renew."
That's the reason Hiro Yagishita (Vasayo Diamond) gives when asked why he decided to become a Brand Partner at the four-year-old company based out of Pleasant Grove, Utah.
It's also resonant with the feedback he consistently gets from those he's personally sponsored. Yagishita says the joy his loyal customers get from receiving "powerful health, beauty, and rejuvenation" is what propels him to keep sharing with people the secret of Vasayo.
"Because customer satisfaction here is so high," Yagishita says,

"I feel secure enough to share more and more about these powerful products, creating a pipeline in the process. With these nutritional supplements, anyone can happily live an abundant life."
It's not just the mind and body benefits of Vasayo products that Yagishita speaks to people about either.
He loves to help forward-thinking entrepreneurs understand the earning potential of a network marketing career through personal trainings on how the Vasayo Rewards Plan outlines an attainable path for families to earn an additional and steady stream of income.
"People are attracted to positive people, so I share Vasayo and my story passionately. These products and this company make me happy and provide possibilities, and I believe that people out there are waiting for me to share it with them."
Yagishita says.
About Vasayo
Vasayo is a direct sales company based in Pleasant Grove, Utah. For passionate people who seek abundance in life, we create products that promote wellness, enhance beauty, and support daily renewal.
Through our science, we maximize the delivery of nutrients to the human body using liposomal technology and other advanced delivery systems. And through our mission to bless 1 million lives, we empower our Brand Partners to change the world. For more information, visit vasayo.com. Follow Vasayo on Facebook or Instagram.
Recommended Distributors Vasayo