MyDailyChoice Adds Live Chat Functionality To Back Office
June 26, 2021
By Team Business For Home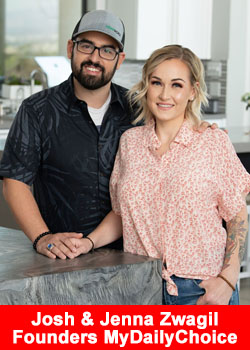 Tap Rooting Made Easy:  MyDailyChoice Adds Live Chat Functionality to Back Office Continuing their reputation as top innovators, MyDailyChoice has now added live chat functionality to their Back Office platform.
The rollout of live chat offers a huge opportunity for Affiliates to stay in contact with their team members and allows for easy access to everyone in the organization
"This is Tap Rooting made easy. You can reach 10, 20 levels deep and a lot of leaders are super excited about this rollout. You can search for anyone in the organization and instantly connect with them.

You don't need to find people on social media or call around or deal with any of the previous hurdles that were in place. Now, it can all be done quickly and easily with a Back Office search."
Said Josh Zwagil, CEO & Founder
Live chat is Stage 1 of the rollout and includes all the features of any modern chat application from file sharing to group chats. Stage 2 will include the ability to participate in video chat for more personal one-on-one interaction.
A couple defining features that set MDC apart within the industry are the unparalleled free access to high-quality marketing materials (both online and traditional) and state-of-the-art technologies, which are constantly being improved and updated. Live Chat is the perfect example, and everyone in the company is excited to use this new powerful tool.
About MyDailyChoice
MyDailyChoice, Inc., based in Las Vegas, NV, is the global leader for pure CBD products, the finest essential oils, exclusive travel deals, and wellness and performance products. With thousands of active Affiliates worldwide and five unique brands – HempWorx, Mantra Essential Oils, High Life Travel, Daily Sprays and Akashx – MyDailyChoice is a recognized leader in the Direct Selling Industry.
MyDailyChoice brings its mission to empower families with the opportunity to be physically and financially healthy. MyDailyChoice's 100% commitment to innovation continuously brings customers and Affiliates the highest quality and latest product breakthroughs in the wellness space, supporting holistic lifestyles and the entrepreneurial spirit.
Income disclaimer
*These statements have not been evaluated by the Food and Drug Administration. MyDailyChoice products are not intended to diagnose, treat, cure or prevent any disease. For more information, please call +1 (888) 877-5436 or visit www.mydailychoice.com.
There are no guarantees regarding the income from the MyDailyChoice/HempWorx opportunity. The success or failure of each Affiliate, like in any other business, depends upon each Affiliate's skillset and personal effort.
Earning levels for Independent Affiliates are examples and should not be construed as typical or average. Income level achievements are dependent upon the individual Affiliates business skills, personal ambition, time, commitment, activity, and demographic factors. To view the MyDailyChoice Income Disclosure Statement, click here.
Recommended Distributors MyDailyChoice