Amplifei Announces The Wellness Influencer Program
July 20, 2021
By Team Business For Home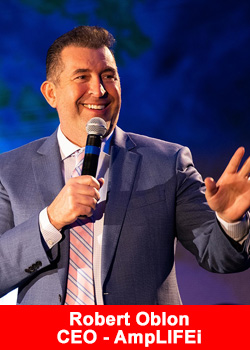 Amplifei™ International Announces The Wellness Influencer Program for Its Resellers of the HAPInss Brands™ Gut Health Product Line.
The Wellness Influencer Program is a strategic partnership between HAPInss Brands™ and Dr. Eric Nepute, a well-known chiropractor and wellness practitioner. The Wellness Influencer Program was specifically designed to bring the HAPInss Brands' Gut Health Triad product line to other wellness professionals around the country, and eventually, around the world.
HAPInss Brands™, is a Nutritional Sciences Company that specializes in the development of unique gut-health formulations not found anywhere else in the world, which are the perfect products for chiropractors, naturopathic doctors and ultimately any health and wellness expert seeking to amplify the health and wellness of their patients.
"In my over 20 years of experience building wellness practices intent on helping people who holistically in their health journey, I have never seen anything even close to the power that this Gut Health Triad offers in its ability to help reverse poor gut health,"
says Dr. Nepute.
"When you understand ultimately that almost all disease begins in the gut, you understand why these products can help support a healthier, happier lifestyle."
The Wellness Influencer Program is "turn-key," in providing health and wellness practitioners with all the tools necessary to serve their patients from day one. Through our state-of-the-art cloud-based platform, with QR codes and easy Smart Ship options, wellness center owners have everything they need to onboard their patients in their journey for better health.
"This is the next generation of the Direct Selling distribution model, never seen in this format, that will help our home-based entrepreneurs add an incredibly powerful toolset to aid in the growing of their business, and more importantly, their residual income,"
said Robert Oblon, Founder of Amplifei™.
"This is just the start of the new influencer-based additions to our already powerful product line that I believe will transcend this business model to a whole new level."
What will become known as the HAPInss Brands™ B2B2C (business to business to consumer) model, this one carefully designed program includes the ability for an Amplifei™ Reseller to also benefit from the volume generated by any wellness center(s) they help enroll, establishing an additional new line of revenue.
Larry Cantrell, the President of HAPInss Brands™ says;
"Although similar attempts have been made in this Direct Selling model to marry products with health and wellness professionals, I've never seen it done quite this way. I believe we have finally figured out how to create a win, win, win platform for all participants involved."
About HAPInss Brands™ and Amplifei International™
Happiness Brands™  is a nutritional science company providing people with the latest technological advances specific to amplifying the state of wellbeing, also known as happiness.
Amplifei International™  is a health and wellness lifestyle company serving freelance entrepreneurs in the Gig Economy.