Jennia Gibson Achieves Royal Black Diamond Rank At The Happy Co.
July 14, 2021
By Team Business For Home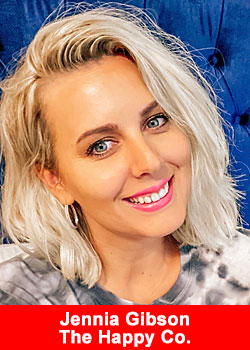 Jennia Gibson Finds Her Dream Life with The Happy Co.
While some may see modest transformations in their careers or personal lives, Jennia Gibson has completely hit it out of the park in both areas. The 33-year-old single Wisconsin mom of two went from a stressed-out paramedic working the night shift to a successful business owner with her own yacht.
"I was burnt out already and had barely tapped my career potential," says Jennia of her former career. "After 'playing hooky' to attend my son's kindergarten program, I knew I had to make a change. He was growing up without me, and I could barely stay awake to play with him."
With no energy, plenty of stressors and a dwindling bank account, Jennia knew she needed something else … but couldn't quite put her finger on what that was. Then, while scrolling Facebook, she saw a post that sounded too good to be true.
"'A coffee that helps boost your mood naturally.' Right, sure," says Jennia. But she figured it couldn't hurt to see what the company was all about. "I had always wanted to run my own business and was struggling to find something that truly lit my fire. The rest is a happy ending."
Jennia signed up as a Brand Partner with The Happy Co. and went all in.
"We built a six-figure team in less than 12 months, which led to seven figures shortly after," she says.

"I was able to not only replace my yearly income at the hospital but pay off all of my personal debt, build back my credit and begin to save for my children's college. There was no more worry about stretching my extra $400 a month I had left over after daycare and my bills."
Having recently achieved Royal Black Diamond status with The Happy Co., Jennia says her team is now working on launching an international team in Europe, and they're becoming part of the seven-figure earners' circle associated with Eric Worre. Additionally, she says,
"This year I was honored to be a part of the first GoPro accelerator founding class, which allows leaders in the industry to come together and level up."
These days, Jennia lives the life of freedom she sought as a paramedic. "If we need to go on a vacation, we pick the dates, not "my boss." Not only are my weekends free, but my weekdays are flexible as well."
Along with children Zade, 9, Lavender, 4, and French fiancé Vic, the family enjoys vacations to the beach, Disney and Vic's home country. When they're not jetting off for an adventure, the family is content with enjoying the local splendor of Wisconsin. And about that yacht:
"My fiancé and I love being out on the water, and I have always dreamed of having a motor yacht to spend the weekends on," Jennia says.

"Next boating season we will be welcoming a new addition, and we can't wait to take it out in Lake Michigan."
From paramedic to network-marketing success story, Jennia hopes to spread the same happiness and financial freedom to other women. "The biggest investment you can make is not in your business, but in yourself," she says. "If a single Midwestern mom can achieve her dreams, so can you."
About The Happy Co.
The Happy Co., formerly Elepreneurs, launched in February 2021 with an established foundation of successful nootropic, functional beverage products that enhance mood, boost energy, enhance sleep, and make you look and feel like a younger person. The Happy Co. starts with products but does not end there. We are a lifestyle and a dose of happy. For more information about The Happy Co. go here.
Recommended Distributors The Happy Co.