Kyäni Welcomes Yan Bin Ma, M.D., To Its Scientific Advisory Board
July 22, 2021
By Team Business For Home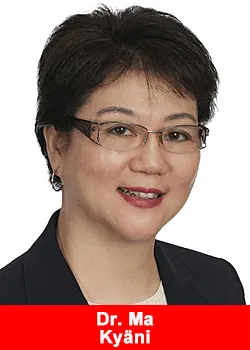 Kyäni, Inc. announced today that renowned medical science expert Yan Bin Ma, M.D., will be joining them as their newest member of its Scientific Advisory Board.
"We are excited to welcome Dr. Ma to our Kyäni Scientific Advisory Board,"
says Kyäni's President, Katy Holt-Larson.
"We are so fortunate to continue to grow our Scientific Board with committed, passionate health professionals who are not only experts in their fields but are committed to helping people change their health through lifestyle and supplementation. Dr. Ma's expertise in nutrition and the human body, as well as her experience working globally in this industry, make her an excellent partner for Kyäni."
Dr. Ma has over 38 years of experience in Chinese and Western medicine practice, including epidemiology, preventative medicine, alternative medicine, and medical nutrition science. She also has extensive expertise in medical science teaching and research, specializing in inherited disease and hematology.
Dr. Ma joins Kyäni with more than 20 years of professional experience in health and nutrition product consulting and 20 years of experience in the Direct Sales Industry.
As an esteemed Kyäni Scientific Advisory Board member, Dr. Ma will offer insight into innovative and trending research, provide expert ingredient input, lead the way for new and future product development, and create top-level product training to support the Kyäni community.  Dr. Ma will focus her expertise on the Kyäni Chinese market.
"From a young age, I have had a passion to work with people and to help cure their diseases as a medical doctor,"
says Dr. Ma.
"With this dream, I entered medical school and have dedicated my life to my patients and to saving lives. What I found is that by the time some are in my office to be treated, I wish I could have helped them years earlier.

As a result, in the second half of my career, I have dedicated myself to not only my patients but to teaching and training many all over the world how to live a healthy lifestyle, including the importance of nutrition and how we keep our bodies healthy so we can live young."
Dr. Ma continues,
"I love the direct selling industry because it is a platform to spread healthy living to thousands around the world. I love Kyäni's vision and mission to bring hope for a better life through wellness and opportunity, and I am happy to play an integral part in fulfilling this mission."
Kyäni is pleased to welcome Dr. Ma and looks forward to her contributions as they work toward their mission to share the secret of better health with millions of people around the world.
About Kyäni:
Kyäni, Inc., founded in 2007, is a global network marketing company based in Idaho Falls, Idaho, USA. From its beginnings, Kyäni has been the globally recognized pioneer of the Nitro Nutrition™ and antioxidant movements by being the first to recognize the efficacy of the Wild Alaskan Blueberry and ingredients that support natural Nitric Oxide production in the body.
With their selection of core products, which include The Triangle of Health®, powerful Protein Nutritionals, and the ON nootropic energy shot, Kyäni harnesses the power and potency of wild and natural ingredients to lead the way in increasing and improving overall health and wellness through proper nutrition.
With its value rooted in unrivaled, wild-sourced nutritional supplements, Kyäni is also able to offer a rewarding opportunity to its Business Partners in over 50 countries around the world. For more information, please visit www.kyani.com.
Recommended Distributors Kyani