Latasha WOP Williams Achieves 250k Rank At MyDailyChoice
July 8, 2021
By Team Business For Home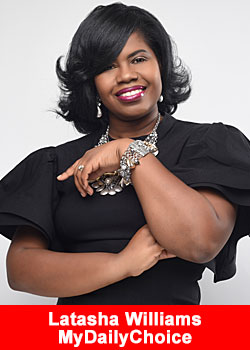 Latasha WOP Williams has been an inspirational icon since joining MDC and has just recently achieved the rank of 250k.
From Cleveland originally, Latasha makes her home in Myrtle Beach but was introduced to MDC at a company roadshow in Baltimore.
"My upline, Antonina L Griffin, advised me to go and I had never seen anything like it. It was standing room only and the Testimonies were amazing. Once I saw that, I knew I was in." 
Since becoming an Affiliate, only two years ago, she has achieved much success but what she's most thankful for is her ability to touch the lives of others.
"This has been the most rewarding experience because my team is truly happy. Hearing single moms say how this opportunity has impacted their lives is so awesome."
In addition to helping her team, Latasha is a huge supporter of helping women get a second chance. She credits MDC with giving her the tools to help a transitional home where women can go to get a fresh start in a safe and supportive environment. She also gives a lot of thanks to those who helped get her here.
"I am grateful for Josh & Jenna Zwagil for creating a business that would touch the lives of so many. I am thankful for Antonina Griffin for teaching me how to manifest my dreams.

Candace Byrd-Davis for showing me what Beast Mode in a dress looks like, Robert Hollis, who I call the G.O.A.T. (greatest of all time), for pouring wisdom into me and to the entire team for their dedication, we made this happen together"
Her goal over the next few years is to help over 100 families become 6-7 figure earners. A quote she likes to live by is, 'Success isn't about how much money you make, it's about the difference you make in people's lives." – Michelle Obama
She's already helped so many, and we are confident that Latasha will continue to grow her business and help others do the same!
About MyDailyChoice
MyDailyChoice, Inc., based in Las Vegas, NV, is the global leader for pure CBD products, the finest essential oils, exclusive travel deals, and wellness and performance products. With thousands of active Affiliates worldwide and five unique brands – HempWorx, Mantra Essential Oils, High Life Travel, Daily Sprays and Akashx – MyDailyChoice is a recognized leader in the Direct Selling Industry.
MyDailyChoice brings its mission to empower families with the opportunity to be physically and financially healthy. MyDailyChoice's 100% commitment to innovation continuously brings customers and Affiliates the highest quality and latest product breakthroughs in the wellness space, supporting holistic lifestyles and the entrepreneurial spirit.
These statements have not been evaluated by the Food and Drug Administration. You do have the option to include the disclaimer at the end of the article.   MyDailyChoice products are not intended to diagnose, treat, cure or prevent any disease. For more information, please call +1 (888) 877-5436 or visit www.mydailychoice.com.
There are no guarantees regarding the income from the MyDailyChoice/HempWorx opportunity. The success or failure of each Affiliate, like in any other business, depends upon each Affiliate's skillset and personal effort.
Earning levels for Independent Affiliates are examples and should not be construed as typical or average. Income level achievements are dependent upon the individual Affiliates business skills, personal ambition, time, commitment, activity, and demographic factors. To view the MyDailyChoice Income Disclosure Statement, click here.
Recommended Distributors MyDailyChoice