The Lyconet Online Sensation – Summer Edition With Eric Worre
July 14, 2021
By Team Business For Home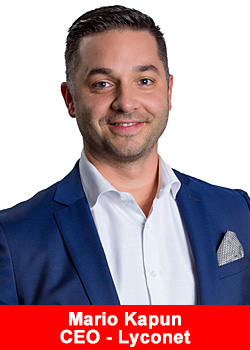 Summer, sandy beaches and sunshine – the upcoming edition of the Lyconet Online Sensation will be held on July 24, 2021 in the paradise at the foot of Mount Olympus.
In time for the start of summer in Europe, the Lyconet Online Sensation has unveiled a change of location: for the first time, the stunning EliteClub Villa in Thessaloniki, Greece, will serve as the backdrop for this unique event. Participants will not only be rewarded with breathtaking views of the Mediterranean, but will also gain plenty of input on how to get started as a Lyconet Marketer and establish their own business. One thing is crystal clear: no one should miss out on this opportunity!
Paradisiacal flair meets entrepreneurship
However, the flair of summer shall not detract from the primary objective of the Lyconet Online Sensation: continuous development. With this in mind, important key players from myWorld as well as successful Lyconet Marketers have been invited to speak at the event. They will share their experiences and tips with interested parties from all over the world who wish to participate in the Lyconet Online Sensation.
"The basis of success is being ambitious, believing in yourself, working hard and always improving your skills,"
says Mario Kapun, CEO Lyconet.
Insights and prospects
The summer season encourages people to dream of faraway destinations and foreign cultures. This is exactly where travelWorld comes into play: At the Lyconet Online Sensation, Lyconet Marketers can exclusively discover the latest developments and news about the up-and-coming travel booking platform.
Of course, trainer and consultant Eric Worre will also be part of the event and will share his unique tips and tricks to guide Marketers on the road to success. In the process, participants will learn how to most efficiently build and grow their Organization and how to best utilize the many benefits of the Lyconet Business Model.
After all, Lyconet allows Lyconet Marketers worldwide to manage their business anytime and from anywhere – no matter where they are from or how old they are. EliteClub members and those who would like to become members will also not be forgotten and will receive important information about the latest updates. A preview of myWorld's and Lyconet's future milestones will conclude the Lyconet Online Sensation.
Take a little bit of Greece home
Motivated people who would like to participate in the upcoming Lyconet Online Sensation may exchange information with Lyconet Marketers on the official Lyconet Online Sensation Facebook page and secure free ticket codes. Those who already know what they want are invited to register as a Lyconet Marketer for free and without obligation at www.lyconet.com and purchase ticket codes online.
This is an easy way to take a little bit of Greece home with you because the fact is: the summer edition of the Lyconet Online Sensation promises paradisiacal flair, exciting topics and a unique opportunity to rise above yourself.
About Lyconet
The Lyconet brand offers those who are interested the opportunity to establish one's own business as an independent entrepreneur, to enthuse consumers across the world with the benefits of the myWorld Benefit Program and to sell customer loyalty programs to small and medium-sized enterprises.
As a marketing specialist, Lyconet provides a wide range of professional training, services and tools, in order to offer its sales partners (Lyconet Marketers) the best possible support in their business activities.
Lyconet thereby ensures that the myWorld Shopping Community is continuously expanded in terms of Customers and Partners while more and more Lyconet Marketers are joining Lyconet. For more information please visit www.lyconet.com.