Tiffany Schassar Achieves Royal Black Diamond Rank At The Happy Co.
July 21, 2021
By Team Business For Home
When her mother, Rosemary, passed away in 2018 from cancer, Tiffany Schassar was beyond devastated.
"My mother was everything to me — my best friend and the person whom I relied on for everything," she says. Living just across the street from her mother meant nightly dinners and daily activities with her close-knit family. And when Rosemary died, says Tiffany, "I was beyond devastated. I couldn't function, and I felt nothing but emptiness."
Then, when Tiffany hit what she considers her lowest point, she says The Happy Co. products literally fell in her lap.
"Within my first week, I was joyful and actually starting to feel my life," she says. "It's hard to explain when something is missing for so long. And when you get it back, it feels miraculous."
Plus, she was able to show up again for her kids. "My kids got their mom back, and that is far and away the biggest blessing I could ever have asked for. I had prayed for a solution time and time again, and those prayers were answered!"
The 41-year-old Ohio wife to Brian and mom of Logan, 11, and Brianna, 9, not only began to feel better mentally, she also saw transformation in every other facet of her life.
"I have lost almost 67 pounds and am just a couple pounds shy of my overall goal," she says. "I didn't come here to lose all that weight I carried around for over a decade, but I certainly was happy with that side effect!"
Business-wise, Tiffany saw incredible things happening, too, when she joined The Happy Co. as a brand partner and quickly rose in the ranks to reach Royal Black Diamond status.
"We were mainly living on my husband's income before," she says. And while Tiffany took on some odd jobs here and there once she had kids, she ultimately made the decision to make caregiving for them her primary work while also taking care of her mother.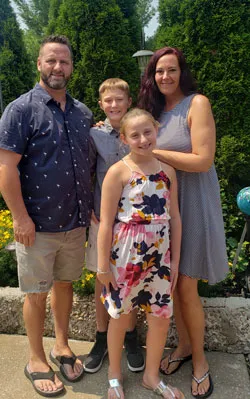 "This business allows me to work anywhere at any time and be present for the things in my life that truly matter, which for me is God and family," she says.
Tiffany adds that building a successful business takes a passion for the products.
"In this company we have residually used products in high demand, the best formulations, global expansion, growth and new products all with a corporate and field team that pours into us, loves us and gives of their time, assets and efforts to ensure we have all the tools and resources to be successful," she says.
"Happiness," she adds, "is in abundance around here. I've lost almost 67 pounds, I'm a much calmer and better mom, I can handle the things life throws at me, and I'm a stronger partner and friend. I
mean, if all of that doesn't elevate your happiness, what else will? It's been a wild ride and I'm here for it!"
About The Happy Co.
The Happy Co., formerly Elepreneurs, launched in February 2021 with an established foundation of successful nootropic, functional beverage products that enhance mood, boost energy, enhance sleep, and make you look and feel like a younger person. The Happy Co. starts with products but does not end there. We are a lifestyle and a dose of happy. For more information about The Happy Co. go here.
Recommended Distributors The Happy Co.