Ashley Tucker Achieves Royal Black Diamond Rank At The Happy Co.
August 4, 2021
By Team Business For Home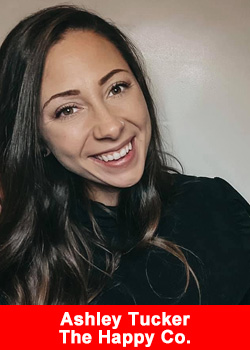 The Happy Co. Brand Partner Ashley Tucker Shares Her Secrets to Success
While some see December as a joyous month filled with seasonal gatherings, Ashley Tucker says her low point was December 27, 2017.
"I was in bed sobbing and praying to God for a change because I was at the end of my rope," she says. "My exact words were: 'God, I need happy!'"
Ashley was a newly single mother living in an apartment with her son and struggling with depression and anxiety. The night after her impassioned pleas, Ashley found her answer when she stumbled across a Facebook Live promoting The Happy Co.'s products. "I was like, "OK, God, I hear you!" she says.
Ashley had been in the network-marketing industry for a while, but this opportunity seemed different. So before she even tried the products, she joined as a brand partner. And when those products finally came? "After 30 or so minutes of drinking that coffee it was like the big, dark cloud that had been following me around that entire year had suddenly disappeared," she says.
"I felt genuinely happy, and I knew I had just found something people needed!"
Since that low point of 2017, so many things have changed. Ashley has become a full-time brand partner with The Happy Co., rising in the ranks to hit Royal Black Diamond status.
Two-and-a-half years ago, the 34-year-old Monticello, Kentucky, mom married her husband, Kyle, and they raise their children Keaton, 13, Blakely, 6, and Bristol, 2.
The Happy Co. has been a source of financial security for Ashley's family. "It's not only allowed me to be a stay-at-home mama so I never have to miss the important moments, but it's allowed me to bring my husband home from a factory job," she says. Now Kyle is chasing his dream of becoming a barber.
"These products and this business can elevate your life, but they don't cause all of life's tough times to magically go away. I want people to know I can relate to them, and having these products, this business, the community and relationships makes the tough times a lot easier to get past,"
Ashley says.
About The Happy Co.
The Happy Co., formerly Elepreneurs, launched in February 2021 with an established foundation of successful nootropic, functional beverage products that enhance mood, boost energy, enhance sleep, and make you look and feel like a younger person. The Happy Co. starts with products but does not end there.
We are a lifestyle and a dose of happy. For more information about The Happy Co. go here.
Recommended Distributors The Happy Co.