Lyconet Online Sensation Summer Edition 2021 With Eric Worre
August 16, 2021
By Team Business For Home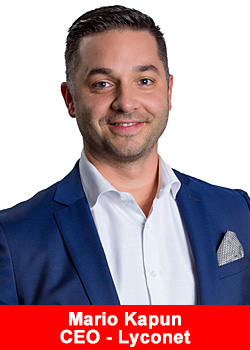 The well-known Greek city of Thessaloniki was the perfect backdrop for the Summer Edition of the Lyconet Online Sensation, which took place on July, 24th 2021 and featured inspiring speakers who provided the participants with valuable experiences, tips and news.
Lyconet once more succeeded in hosting a well-rounded event. Lyconet Marketers and interested prospects from all over the world were offered a highly entertaining program, starting with updates from the world of Lyconet and myWorld, followed by exciting insights provided by successful Lyconet Marketers and news from the EliteClub as well as from travelWorld.
Work is passion
Whether it comes to learning a foreign language from scratch or reconciling one's career and a family with six children – as part of the Lyconet Online Sensation, Lyconet Marketers from all over the world talked about their development and how Lyconet makes even the impossible possible. Lyconet offers people the opportunity to work from anywhere at any time they want and to establish their own business.
Therefore, what's most important is to acquire an entrepreneurial mindset and further develop yourself by constantly stepping out of your comfort zone. In line with this topic, speaker, trainer and consultant Eric Worre also provided important content on how to successfully get started as an entrepreneur.
"For an entrepreneur work is creation; work is the privilege to make the world a better place; work is passion, purpose, legacy.",
Eric Worre stated.
Greek holiday feeling on-demand
The participants of the event's Summer Edition also witnessed the introduction of some new key figures from myWorld as well as the presentation of a new, revolutionary product: the @media box. An exciting outlook on the planned milestones of travelWorld and important news for EliteClub members contributed to making the Lyconet Online Sensation a perfect event.
In case you missed the live event, you can now watch a recording of the Lyconet Online Sensation Summer Edition 2021 online. To do so, you just need to use your ticket code to register for the on-demand version at www.lyconet-online-sensation.com/ondemand and then nothing can stop you from bringing some Greek holiday feeling to your home.
If you still need a ticket code, you can visit the official Facebook event page of the Lyconet Online Sensation Summer Edition 2021 and get in touch with existing Lyconet Marketers who might still have ticket codes to share with you.
About Lyconet
The Lyconet brand offers those who are interested the opportunity to establish one's own business as an independent entrepreneur, to enthuse consumers across the world with the benefits of the myWorld Benefit Program and to sell customer loyalty programs to small and medium-sized enterprises.
As a marketing specialist, Lyconet provides a wide range of professional training, services and tools, in order to offer its sales partners (Lyconet Marketers) the best possible support in their business activities.
Lyconet thereby ensures that the myWorld Shopping Community is continuously expanded in terms of Customers and Partners while more and more Lyconet Marketers are joining Lyconet. For more information please visit www.lyconet.com