Neora Celebrates A Decade Of Making People Better
August 12, 2021
By Team Business For Home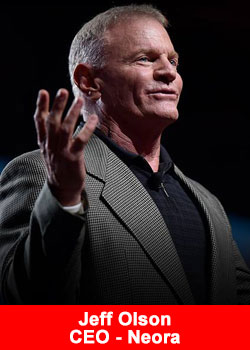 This month, as Neora celebrates its tenth-year anniversary, there is so much to be proud of.
With just one revolutionary skin-care product launched in 2011 and the belief anyone can be an entrepreneur with the right mindset, Neora changed the landscape in the anti-aging market with sky-rocketing sales in one of the fastest growing industries of the decade.
This allowed Neora to continue to develop and deliver a lineup of skincare, hair care, wellness, and weight-management products backed by real science that provide real results and transform lives. In just 10 short years, the relationship marketing giant has generated over $2 billion in cumulative sales, ranked #12 on Inc. 500's America's Fastest-Growing Private Companies List and #1 for consumer products category, earned a #1 spot on Beauty Inc.'s Top Sales Gains List, and is a Direct Selling Association Top 20 member (DSA).
According to CEO and Co-Founder Jeff Olson,
the meteoric rise has been possible because of the support of Neora's three-pronged business model of top-of-line products that provide real results and value; a compensation plan that allows you to start earning from day one; and a culture of empowerment that allows anyone to achieve their goals. "We believe in you until you believe in yourself," Olson says.
The Best of the Best
Founded by serial entrepreneur Jeff Olson, Neora put together an executive leadership team with vast domestic and international experience in direct selling. The hard work of his team has garnered numerous industry awards including, Best in Biz Awards, Stevie Awards, Golden Bridge Awards and CEO World Awards.
Throughout its history, Neora has been named among the best in the industry, honored as a Top 20 Company at the Direct Selling Association Awards and was the youngest company to break into the top 50 on Direct Selling News' "DSN Global 100" list
Real Science, Real Results
Since 2011, the global relationship marketing company has researched and developed world-class multifunctional skincare, hair care, wellness, and weight management products containing proprietary and exclusive patented ingredients, antioxidants, plant extracts, and vitamins.
With a focus on science-based products that produce real results, Neora has created clean, performance-driven formulas that our customers love. Having sold 40 million products worldwide, we are happy to have helped so many people look and feel their. 
These sought-after products are the cornerstone of the business and have been recognized by multiple national and international media outlets, including Shape, Bazaar, InStyle.com and Allure. Whether it is addressing the troublesome signs of aging on the skin, hair or total body, Neora offers products that provide solutions to live a healthier, happier life.
It's All About the Right Opportunity
Neora's innovative, intelligent products have attracted 2.3 million Preferred Customers around the world, but it is the Neora Side-Gig that has helped many achieve their dreams of more time with family, building a future, and creating memories that will last a lifetime. Neora's Brand Partners consist of entrepreneurs looking for an attractive side hustle, retirees, single parents and anyone else seeking for more freedom, flexibility and fun in their lives. With Neora, you get what you put into your business and we're here to help you along the way.
With low-startup costs, powerful training and support systems and a true e-commerce experience, Brand Partners have the opportunity to create an incredible business working from anywhere in the world. The traditional workplace is changing, and Neora embraces this change by becoming an elite player in the side gig revolution by perfectly combining the effectiveness of e-commerce with the power of personal relationships. You are free to create your own roadmap to success and live your life on your own terms.
A Culture of Positive Change
From the beginning, Neora wanted to create a place where people can build the business they've always wanted, but also with something bigger in mind by making positive change in the world in authentic and meaningful ways.
Through its philanthropic efforts with the Neora Ripple Foundation, the company along with thousands of Brand Partners, has raised over $6 million for deserving charities that are dedicated to empowering people, including Big Brothers Big Sisters of America and World Vision. In 2019, Neora was honored as Ally of the Year for the Big Brothers Big Sisters (BBBS) of Lone Star and Greater Dallas as well as being presented with the President's Award by BBBS in 2015.
Continuing its mission of helping people create happier, better lives, Neora launched its sister company, Live Happy, with the goal of promoting and sharing authentic happiness through education, integrity, and community awareness.
By bringing the happiness movement to a personal level and inspiring people to engage in living purpose-driven, healthy, meaningful lives, Co-Founders Jeff Olson and CEO Deborah Heisz have been invited to speak before the United Nations on the International Day of Happiness, and both have been inducted into the Happiness Hall of Fame.
Many More to Come
With servant leadership, the heart to give and the willingness to add more meaning into the lives of others, Neora has paved the road to success with no exit in sight. From a small start-up just 10 years ago to the relationship marketing giant it is today, Neora is perfectly positioned to embrace the future by continuing to make lives better for many years to come.
About Neora
Based in Dallas, TX, Neora is a global relationship marketing company with age-fighting products crafted from cutting-edge research and science. Founded in 2011, Neora has shattered industry sales records while developing a strong customer base in North America, Latin America, Europe and the Asia-Pacific.
Neora is committed to providing an excellent product line based in real science and providing its Independent Brand Partners with a life-changing and outstanding business opportunity through relationship marketing. For more information, please visit: neora.com.
Recommended Distributors Neora