Petra Honies From Austria Achieves Diamond Rank At Success Factory
August 21, 2021
By Team Business For Home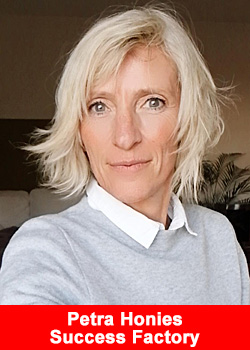 Born in Vienna, Austria, Petra Honies is a disciplined former competitive athlete, who, according to her words, loves to create, build, lead, motivate and grow teams.
It comes as no surprise that she is also a highly professional networker with no less than 20 years of experience in the industry. A recent affiliate of Success Factory, Petra is now recognized for having achieved the Diamond rank.
Petra Honies has always been a rebel spirit, she knew without any doubt that there was something great for her. She knows how to win. As a mother of two twins, 4 years old at that time, Petra started in network marketing and immediately realized how much freedom she could create working with that business system.
She became very successful at selling products, in fact, in only her second year, she had the highest revenue in Austria. However, Petra still lacked a sponsor who would teach her the value of teambuilding, which made her take a break from the networking profession.
Petra re-entered the industry three years ago because she knew that she had the credibility and experience to inspire many people to live their dreams and desires in life.
A new chapter began, and this is when Petra met her sponsor Peter Gurschler, currently Double Blue Diamond at Success Factory. In March this year, Petra joined the company to build up the German speaking market:
"I finally had all the tools I could give people to make it happen, and it has been a steep uphill climb in a very short time.

After 30 years in health and wellness industry, it was a big step for me to enter the field of digital wealth products. I met the leaders and saw the vision of the company, which is to innovate wealth creation for humanity."
A new industry did not scare Petra. She had successfully participated in a 90-day challenge to wake up and run for 30 minutes every day. The first 30 days, she spent her time asking why she was doing this.
The next 30 days, she contemplated stopping because she had done it well for the first 30 days. And the last 30 days, she was in complete control and proud of the fact that she was going to finish the run.
And now, a few months after she started, Petra has already reached the Diamond rank. She simply decided to make it happen and she did. About her personal determination, Petra uses an expression in German that literally says "to kill your pig dog", which means to eliminate anything that wants to stop you.
"Do it at 100% and make it fun. I knew there was something bigger behind it! And this is exactly the thought that has driven me throughout my life."
Petra creates momentum through daily routine. Sometimes, she's so focused that when it's late afternoon she realizes she hasn't eaten lunch. And this is because, as Petra says, she feels awakened in life again.
"My motto is "I decide to be successful", and the reason I love network marketing is I know I can reach and help many people in this life and to tell them there is something more than what you think."
We can say that Petra is a true dream creator and encourager.
About Success Factory
Success Factory is a network marketing company whose main goal is the promotion of human potential and supporting latest technology, relying on innovative and creative proposals that bring real solutions to the lifestyle in the 21st century.
The product catalogue of the company is mainly digital, covering the spheres of technology, education, sales skills and financial expertise. All that always improving quality, usability and exceptionality and offering its sales force different products to work with. The most outstanding items within the extensive ecosystem of the company are Forex Insiders, the View, B.A.N.K., Dagcoin, and Dagpay.
Success Factory has come to be the company that transforms network marketing, being, above all, a company that detects, trains and empowers the sales professionals that will be the great legends of the industry tomorrow. Find more information on the company's website www.successfactory.com.
Recommended Distributors Success Factory