Late Summer Highlight: The Lyconet Star Cruise 2021
September 23, 2021
By Team Business For Home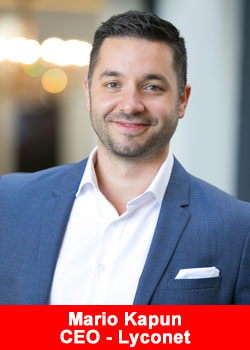 Lyconet recently invited its Marketers to the Lyconet Star Cruise. From the 1st until the 5th of September 2021, this unique cruise took the participants to the most beautiful harbors in Greece and enabled new Marketers to connect with successful Lyconet leaders.
The last rays of summer sun are illuminating the area, and everybody is hoping for a glorious autumn.
Just in time for the change of seasons in Europe, Lyconet invited its Marketers to spend time on board the Club Med 2, the world's largest motorized sailing ship, and enabled them to visit the most beautiful harbors and islands of Greece: Athens, Paros, Mykonos, Santorini and Hydra.
The main focus of this event was the exchange of knowledge between the participants as well as their personal and professional development. Business before pleasure While the days were filled with numerous keynote presentations, the evenings were all about delicious food and dancing to live music.
Successful Marketers who have already established themselves in the Lyconet universe gave an exciting insight into their daily business and talked about topics such as leadership and the personality traits you should have as a Marketer as well as about visions, courage and perseverance.
Mario Kapun, CEO Lyconet, also took the stage and allowed the participants a peek behind the scenes.
To him, it was particularly crucial to underline the added value and importance of events such as the Lyconet Star Cruise because they provide the ideal setting for a Marketer's personal and professional growth.
Once the busy days were over, various themed evenings allowed for everyone to get to know each other and have a great time on board. Challenge accepted "
The Lyconet Star Cruise is one of those events that can be attended not only by long-standing and successful Marketers, but also by those new Marketers who are just getting started as independent entrepreneurs. They have been able to learn valuable tips and tricks on how to expand their Organization",
says Mario Kapun.
The motivation and inspiration the Marketers have gained at the Lyconet Star Cruise will certainly give them the boost they need for this autumn and help them take their business to an even higher level than ever before. And one thing is certain: There will soon be another Lyconet event.
About Lyconet
The Lyconet brand offers those who are interested the opportunity to establish one's own business as an independent entrepreneur, to enthuse consumers across the world with the benefits of the myWorld Benefit Program and to sell customer loyalty programs to small and medium-sized enterprises.
As a marketing specialist, Lyconet provides a wide range of professional training, services and tools, in order to offer its sales partners (Lyconet Marketers) the best possible support in their business activities.
Lyconet thereby ensures that the myWorld Shopping Community is continuously expanded in terms of Customers and Partners while more and more Lyconet Marketers are joining Lyconet. For more information please visit www.lyconet.com
Recommended Distributors Lyconet