Amplifei™ Launches The Success Coach Program
October 14, 2021
By Team Business For Home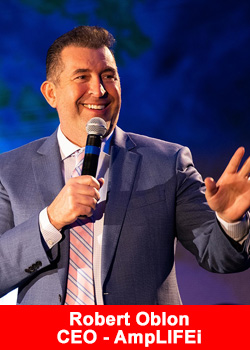 Robert Oblon and Amplifei™ launches the Success Coach Program and adds world renown chiropractic trainer, Dr. CJ Mertz to the team.
"This concept and path has been a long time coming, over the last 10 years or so."
said Oblon.
"It's a way in which a home-based entrepreneur in this distribution model can build a robust residual business without having to recruit a single person into the business.

The flip side is, it's going to be the greatest tool we've ever seen to recruit people into our business, all while massively increasing our customer acquisition strategies."
Joining Amplifei™ as the VP of Sales & Business Development, is Dr. CJ Mertz who will head up the Wellness Influencer Program to coach and train the Success Coaches, who are direct sellers in the Amplifei business.
Dr. CJ Mertz is a world renown Chiropractor, specializing in spinal reconstructive practices.
Since the mid-80s Dr. Mertz has focused on the health and wellness of athletes, with his practice being represented in the 1988 Korea Olympics.
In the 90s Dr. Mertz was named Doctor Of The Year on three different occasions. Dr. Mertz currently is an Associate Professor, Keynote Speaker and designer of some of the most recognized systems used in the health and wellness community today.
Dr. Mertz states
"I am excited to work side-by-side with Robert and Dr. Eric Nepute to expand the success of the HAPInss Brands Wellness Influencer Program.

This unique model will revolutionize and bring together the Main Street Chiropract Practices with the Influencer Marketing Industry."
The Wellness Influencer Program is a complete "turn-key" program, providing the practitioner with all the tools necessary to serve their patients from day one. Through our state-of-the-art cloud-based platform, all transaction and recordkeeping are simple to manage for both you and your patients.
"We are known to utilize unique marketing strategies and distribution methods, such as the Wellness Influencer Program, to differentiate HAPInss Brands from others in the health and wellness industry.

We are on a mission to transform the lives of ten million people here in America, and what better way to jumpstart our mission than partnering with Main Street America Wellness Practitioners."
says Larry Cantrell, President of HAPInss Brands.
About HAPInss Brands™ and Amplifei International™
Happiness Brands™  is a nutritional science company providing people with the latest technological advances specific to amplifying the state of wellbeing, also known as happiness.
Amplifei International™  is a health and wellness lifestyle company serving freelance entrepreneurs in the Gig Economy.
Recommended Distributors Amplifei