Network-Marketing Industry Veteran Garrett McGrath Named CEO Of The Happy Co.
October 29, 2021
By Team Business For Home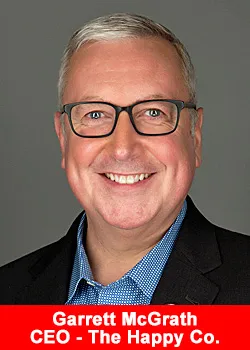 The Happy Co. announces the appointment of Garrett McGrath to the position of Chief Executive Officer.
Prior to this role, McGrath served as The Happy Co.'s President working to execute the company's vision, develop strategic direction, and provide training to help maximize the success of every Brand Partner and The Happy Co.'s products.
McGrath brings more than three decades of network-marketing experience to The Happy Co., building organizations of more than 150,000 distributors in 21 countries during that time frame.
Along with his wife, Sylvia, who currently serves as The Happy Co. Chief Experience Officer, this industry power couple also has served as master distributor for prominent network marketing companies.
As a highly sought-after keynote speaker, leadership trainer, and industry expert, McGrath also serves as President of the Association of Network Marketing Professionals (ANMP), a role he's held since 2012.
Established in 2004, ANMP is the premier nonprofit association advocating for the ethics, professionalism, and education of the network-marketing community.
"I am pleased to announce Garrett McGrath as the new CEO of The Happy Co.!

Given his vast experience and history with the company, we expect that this will be a smooth transition which will ultimately benefit the field as well as the company.

We will have additional information about Bo Short's new role within the organization over the next coming days,"
says Fai Chan, Global Executive Chairman of The Happy Co.
"With his wealth of experience and industry prestige, Garrett McGrath is well suited for his new role as CEO of The Happy Co.,"
says Frank Heuszel, Member of the Board of Managers of The Happy Co. and CEO of DSS.
"We're excited to have him on board."
About The Happy Co.
The Happy Co., formerly Elepreneurs, launched in February 2021 with an established foundation of successful nootropic, functional beverage products that enhance mood, boost energy, enhance sleep, and make you look and feel like a younger person.
The Happy Co. starts with products but does not end there. We are a lifestyle and a dose of happy. For more information about The Happy Co. go here.
Recommended Distributors The Happy Co.