Omar Salazar From Mexico Achieves Royal President Rank At XIFRA
October 28, 2021
By Team Business For Home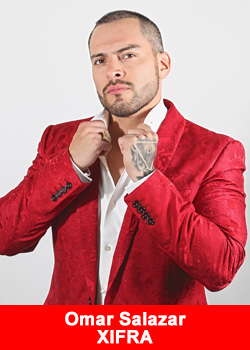 In a series of articles, XIFRA would like to recognize its greatest and most committed leaders, who promote and carry as a flag the values of the company, which are integrity, unity and edification.
Every member of the extensive XIFRA family is important, and the company is showing its appreciation for all the work and dedication of its leaders. In this article, XIFRA is honouring Omar Salazar, from Mexico, as the holder of the highest rank at the company, which is Royal President.
Omar Salazar, 36, has 14 years of experience in the network marketing industry. A former body builder, Omar left his previous career at the age of 21, and this was when a new path started in his life.
Omar tells us how he got introduced into the network marketing industry. Curiously, it was the mother of one of his friends, whose name Omar mentions with pride – Rosa Martha Randall – and calls her his mentor, who one day told him:
"You have to take a look at this. It's maybe not for me, but I'm sure it's for you."
Omar got excited at once and went to see a presentation of an opportunity.
The beginnings are not easy, and Omar admits that he found quite a lot a rejection and criticism on his path:
"Fortunately, I have always been a very persistent person. Actually, there is a bit of rebelliousness in my attitude: when someone tells me I can not do it, it's like a fuel for my mind, I know that I will do it no matter what."
At the beginning, it was Omar's father who supported him and helped him with the first 200 dollars to start the business. The first years were hard, especially for a young networker who doesn't really have any knowledge about the business. Omar wouldn't give up, and after a streak of failures, he finally met the right people from whom he started receiving training and mentoring.
After years of ups and downs, successes and failures, Omar bumped into the book "The Science of Getting Rich", by Wallace D. Wattles, and this where his career truly took off and led him to earn his first million dollars, making it to the covers of some of the industry magazines. However, after this bright achievement, Omar went on to stay in the shadows and, as he confesses, he didn't have much luck in the following years. Until 2019.
Mid-2019, Omar met who he considers not only his mentor, but his friend and brother: Jonathan Sifuentes. Omar tells us:
"It's an incredible leader. He actually did to me something that nobody, not even myself, could do, he boosted my self-confidence and convinced me to return to the MLM industry.

Moreover, he introduced me into the world of crypto and Blockchain, making me realize the potential of the newest technologies.

In December that year, we went to the event of the company XIFRA. I was excited and fearful at the same time, because it was all new and unknown for me.

But I had solid trust in Jonathan Sifuentes and the team we were building, of which I would like to mention the names of Oscar Mendoza, Sergio Peñuñuri, Gabriel Sidelamo and Enrique Salazar."
Disruptive, innovative and different, this is how Omar describes the XIFRA company. The following year, responding to the challenge of the world pandemic, XIFRA developed a technological business that was at 90% online and offered its users and affiliates a brilliant opportunity to work from home. And such was the success of this business model that already at the end of 2020, Omar Salazar could boast the highest rank at the company, which is Royal President.
"It was the moment in which I understood that although I've become the first millionaire of my family, the work has just begun. I understood that I had a purpose in life, and it's leaving a legacy for the following generations and helping as many people as possible to improve their lives.

 

Nowadays, I have the opportunity to mentor over 200 Diamonds in my organization and change the lives of 200,000 families. In the last 22 months, there have born 20 millionaires in my structure. All these are impressive numbers, I think. I have become an inspiration for thousands of people, and I have to live up to this status."
About XIFRA
XIFRA is a disruptive and innovative technology company with a global presence and a decentralised smart ecosystem. Making use of the MLM business model, the company's main goal is to provide knowledge about the latest trends in cryptocurrencies and Blockchain technology with its proprietary algorithmic trading software, creating a decentralised financial protocol through the sharing economy.
XIFRA boasts an extensive ecosystem that also offers other business lines under the MLM model, such as wellness and beauty products, education, real estate solutions and hemp farming. For more information, please visit www.xifralifestyle.com