Top Leaders Silke Kost And Jürgen Lengerer Join ENHANZZ Global
October 7, 2021
By Team Business For Home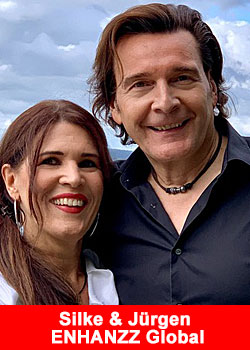 After the couple found their calling in network marketing as aspiring professionals in recent years, and realized that further career advancement could only occur with the right company, they decided to move on to the Swiss Network Marketing company ENHANZZ Global.
The two dog lovers, who are also actively involved in animal welfare, start immediately in the successful Lifestyler Team of Executive Ambassador Andrea Grübel.
 Based on our extensive experience, we feel well prepared to embark on a new and exceptionally successful path in network marketing.

Enhanzz is a company that fits perfectly with our grown values ​​and goals. It is innovative and based on 100 years of accumulated industry experience of the likable and approachable founders.

Outstanding, sustainable, and scientifically sound products and very lucrative earning opportunities, supported by highly professional marketing, also impressed us.

Here we can go the other road to success, especially with our new upline Andrea Grübel – a very successful, personable, and experienced power woman based out our old hometown Stuttgart.
We look forward to this new challenge and thus also to fulfilling our following life goals. We, too, will pass on our shared experience and our professional know-how to people looking for a new or second career to fulfill their lifelong dreams.
Andrea Grübel stated:
I'm looking forward to working directly with professionals like Silke & Jürgen, and thank you very much for your trust in me and our Lifestyler Movement team.

We have big plans together and start the successful journey immediately.
CEO Sven Goebel says:
I am thrilled that more and more people like Jürgen and Silke are joining us. It shows me that we did many things right and that we are on the radar as a young, successful, and steadily growing European network company.
ENHANZZ Global has been able to look back on steady growth in the 2-3 digit percentage range over the past three years right from the start. The company is run very professionally and is expanding rapidly within Europe.
According to CEO Sven Goebel, global expansion is also already being prepared.
About HANZZ+HEIDII
The exclusive HANZZ+HEIDII natural vegan skincare line for "HIM" and "HER", is a cutting edge, active symbiosis between nature and biotechnology, including its proprietary "Magic Swiss Code" formula, and its "Made Without" referring to its commitment that all products are non-animal tested and free of any harmful irritants and additives.
Currently, there are 9 products available for "HER" including a cleanser, serum and day/night cream; 4 for "HIM" also featuring a cleanser and serum  plus 1 unisex facial mask. For more information please visit www.hanzzandheidii.com,  www.enhanzz.com and www.woobyenhanzz.com