Top Trainer John Maxwell Speaker At The Xifra Annual Convention
October 15, 2021
By Team Business For Home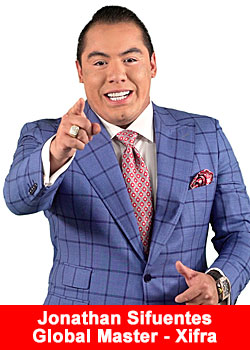 Xifra announces the title of its annual convention: United
Xifra is a company that mainly offers services based on Blockchain technology, but which, throughout its almost two years of life since its foundation, has been incorporating new products and services into its now extensive ecosystem.
Speaking of years, the anniversary of Xifra will be celebrated this November at an international convention that has been christened UNITED and which will be the starting point for the global expansion plan that the company has been working on for the last few months.
Although Xifra has already had markets on almost every continent in the world for more than a year, the company plans to strengthen these markets and position itself as a global company.
This plan will be one of the main topics at the convention, where a new roadmap, as well as new products and services, along with other corporate updates, are expected to be shared.
In addition to corporate information, training and mentoring has also been announced for the convention, including a private mentoring session with author and speaker John Maxwell.
John Maxwell stated:
"I've always dreamed of impacting the world and changing lives one at a time. I've stayed a student of personal growth and development.

Why? Because I believe it has the power to change us individually, connect communities, be a catalyst to corporations, and transform countries around the world."
The event will also feature entertainment and musical performances and will be streamed live in multiple languages.
The UNITED event will take place in Cancun, Mexico, the birthplace of the project, at the Barceló Maya Arena convention centre on November 20 and 21, and over 4,000 people are expected for the occasion, not including those spectators who have purchased a live streaming ticket.
According to Xifra's Global Master, Jonathan Sifuentes:
"Xifra is beginning a new and much bigger stage where we have set ourselves greater challenges and new goals, but we are completely confident that, together, as a community, with a common vision, we will make those goals possible.

The company is working to deliver the best to its users, to bring value and to create positive change in people's lives. This convention is about all that, about continuing to deliver value to create impact on a larger scale."
On what will be unveiled at the event, Jonathan only confirms the following:
"You have to be there on November 20 and 21. But I can tell you it's not going to be just another event.

We're going to have a purely corporate part, very focused on data and what we plan to do in the next stages, but there will also be a very spectacular part.

We have a lot to celebrate on this anniversary and we want our users to love every minute of this convention, because it's for them, the ones who have really made all this possible."

About XIFRA
XIFRA is a disruptive and innovative technology company with a global presence and a decentralised smart ecosystem.
Making use of the MLM business model, the company's main goal is to provide knowledge about the latest trends in cryptocurrencies and Blockchain technology with its proprietary algorithmic trading software, creating a decentralised financial protocol through the sharing economy.
XIFRA boasts an extensive ecosystem that also offers other business lines under the MLM model, such as wellness and beauty products, education, real estate solutions and hemp farming. For more information, please visit www.xifralifestyle.com.