USANA Q3 Revenue Down 8% To $274 Million
October 28, 2021
By Team Business For Home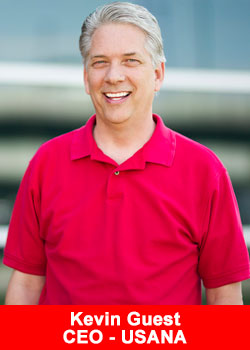 USANA Health Sciences, Inc. (NYSE: USNA) today announced financial results for its fiscal third quarter ended October 2, 2021, which were modestly ahead of the preliminary outlook the Company provided on September 16, 2021.
Key Financial & Operating Highlights
Third quarter net sales were $274.4 million as compared with $298.5 million during the third quarter of the prior year.
Third quarter diluted EPS were $1.36 versus $1.44 during the third quarter of 2020.
Reiterates fiscal 2021 net sales and diluted EPS outlook, which was provided on September 16, 2021.
Company expects to generate approximately $130 million of free cash flow in fiscal 2021.
Q3 2021 Financial Performance
Consolidated Results

Net Sales

$274.4 million

-8% vs. prior-year quarter
-11% constant currency vs. prior-year quarter
+$9.9 million YOY FX impact, or +3%

Diluted EPS

$1.36

-6% vs. prior-year quarter
Diluted shares of 20.2 million, -5%

Active Customers

576,000

-11% vs. prior-year quarter
"As we indicated a month ago, the operating environment remains challenging across several of our key markets due, in great part, to disruptions and lockdowns related to the COVID-19 pandemic,"
said Kevin Guest, Chief Executive Officer and Chairman of the Board.
"Additionally, the year-over-year comparison was difficult given the significant short-term sales program that we offered in the prior year quarter. Notwithstanding these challenges, we continue to execute our growth strategy, which is centered on generating sustainable customer growth."
About USANA
USANA develops and manufactures high-quality nutritional supplements, functional foods and personal care products that are sold directly to Associates and Preferred Customers throughout the United States, Canada, Australia, New Zealand, Hong Kong, China, Japan, Taiwan, South Korea, Singapore, Mexico, Malaysia, the Philippines, the Netherlands, the United Kingdom, Thailand, France, Belgium, Colombia, Indonesia, Germany, Spain, Romania, and Italy. More information on USANA can be found at www.usana.com.